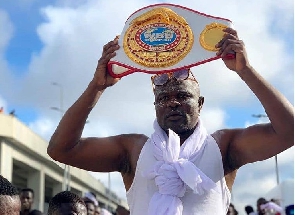 Boxer Patrick Allotey is facing an uncertain future with the Ghana Boxing Association set to drop a sledgehammer on him for attacking a football fan with his 'weapon'.
One requirement for the issuance of a boxing license for any boxer is the assurance that his fists which are considered weapons will not be used to inflict harm on any fellow human unless under certain circumstances.

In short, it is an acceptable rule worldwide that a professional boxer cannot engage in a fight with a fellow human, not even another boxer outside the ring.

Anyone who flouts this 'golden rule' is regarded as a traitor with little or no respect for the very profession that feeds him.

Such is the magnitude of the 'crime' Allotey has committed and with both the GBA and police on him, he is in deep waters and will take a miracle for him to come out with his career unscathed.

The GBA has over the year not been consistent with their punishments of boxers who flout their rules and have at some points been bashed by boxers and other parties for being biased.
But fair play to them, they have also on few occasions descended heavily on boxers who have committed various infractions.

As the nation waits on the punishment for Allotey, ghanaweb.com takes a look at some boxers and boxing officials who have in the past been banned by the GBA. Bukom Banku

The legendary Braimah Kamoko has his name engraved in the list of boxers who have had their licenses temporally revoked by the GBA.

Banku was reportedly banned in the past after assaulting one his three wives.

Last year, his license was once again withdrawn for breaching the terms of a contract he signed with Box Office Promotions.
Joseph Kweifio

Joseph Kweifio was banned by the GBA in 2013 for an alleged match-fixing. The boxer was given a two-year ban for his role in a bout that the GBA later discovered to have been fixed.

Michael Patterson

Just like Kweifio, Patterson was also involved in the match-fixing saga and was handed a two-year ban by the GBA.

A WBC Youth Welterweight bout which was contested for by Ghana's Frank Dodze ended in bizarre circumstance, prompting the GBA to launch investigations into the matter.
Kweifio and Patterson were banned two years each after the investigations.

Roger Bannor

One of Ghana's most revered boxing referees was handed a three-match ban by the GBA in 2013.

The ban was imposed on him after some controversial decisions he made in the WBO fight between Emmanuel Tagoe and Robad Pontilas.

The ban was however lifted a few month later with the GBA cautioning him to be of 'good behaviour'.
Solomon Otoo

The man at the centre of the biggest match-fixing scandal to have rocked Ghana boxing.

Samuel Otoo, a promoter and matchmaker was banned four years for fixing a WBC Welterweight Interim Title bout between Frank Dodze and Nasreddine Dahou of Algeria.

The cornermen of Dodze under strange circumstances threw in the towel after the Ghanaian had knocked down the Algerian in round three for the North African to be declared the winner.

The GBA subsequently launched investigations into the matter. The GBA after investigations found Otoo, the promoter and matchmaker culpable and has subsequently banned him four years effective