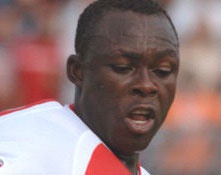 Thu, 30 Nov 2006 Source: --
Rimini have completed the signing of Ghanaian sensation Ciro Barusso.
Liverpool, Inter Milan and Arsenal are among clubs tracking the young midfielder, whose registration had been shared with little Manfredonia.
Rimini confirmed this week they secured Manfredonia's 50 per cent of Barusso's transfer rights to the tune of ?900,000 - which is likely to see the youngster sold in January.
Source: --