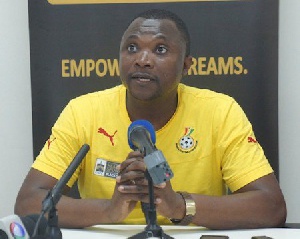 Ghana Football Association communications director Ibrahim Sannie Daara says local coaches do not receive the necessary support when in charge of the Black Stars.
The spokesman was reacting to current calls for the appointment of a native to fill the vacant Black Stars coaching role.

Having whittled down a list of a reported 95 applicants to about five, the football association, led by a six-man search committee, is expected to announce Ghana's next coach in the coming days.

"I understand that there is a local clamour for a local coach," Sannie told Football 360.

"If we are appointing a local coach, if indeed yes it is, we are appointing that person not because of sentiments but because the person is competent enough to do the job.

"At the end of the day if you give it to a local and he doesn't perform, these same people will turn against the person.
"Even when they perform, sometimes we turn against them.

"So when we clamour for our own and we think that our own should come, we should also clamour that when they come, we would defend [them]."

Of four natives to have submitted applications, former Ghana trainer James Kwesi Appiah is the only one to have made the shortlist.

Reports say the 56-year-old is favourite to land the job, ahead of competing expatriates.

The current coach of Sudanese side Al Khartoum, Appiah led Ghana to the 2014 Fifa World Cup in Brazil, but a historic first round exit led to his sack after the tournament.