Southampton supporters shower praises on Kamaldeen Sulemana for incredible performance against Wolves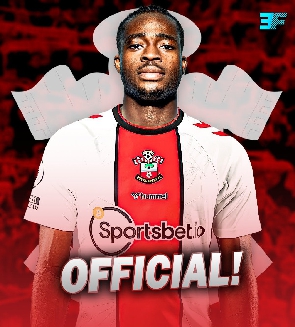 Southampton supporters on social media have praised Black Stars winger, Kamaldeen Sulemana for his standout performance in their home league defeat to Wolves.
The Saints despite taking an early goal lead in their week 22 home game, couldn't hold on as 10-man Wolves fought back to snatch the points with a 2-1 victory.

Kamaldeen Sulemana who made his full debut at the Saint Mary's Stadium stood out in the game and his performance was noticed by the fans.

He was unplayable in his full debut as he showed the home team a glimpse of what they are going to see for the next three and a half years.

The fans took to Twitter to single him out for praise while calling on the other players to up their game in their bid to escape the relegations.

The Black Stars winger lasted the entire duration of the game as his side lost 2-1 leading to the sacking of Nathan Jones who took over from Raph Hasenhuttl before the 2022 FIFA World Cup break in November.
He set a record as the player with the most dribbles in the season - eight

Check out some of the reactions below:


Fancy sending the new lad out to face the music. Where's the club captain.

— Strings (@Stringers76) February 11, 2023
You were immense Kamaldeen! Don't apologise.

— Nick Madden (@NickMad54900372) February 11, 2023
not his best game? still clear of any players on that pitch. ????

— ‏ً (@djenepomagic) February 11, 2023
Kamaldeeen⏩⏩ pic.twitter.com/ihV3Q04Sk8

— the_kingblaze (@AyomahMubarak) February 12, 2023
New signing explain himself after being the best player on the pitch for us, rest of them are all bottle jobs!

— Connor Reed (@connorreeddx) February 11, 2023
Nah I don't want to see this, he was brilliant and only just joined. Where's the captain? Where's Bednarek?

— Conor (@Conor_SFC) February 11, 2023
Poor guy, ridiculous that he has to speak about that game, best performer by far and he deserves better

— Henry (@sfchenry_) February 11, 2023
Poor guy, ridiculous that he has to speak about that game, best performer by far and he deserves better

— Henry (@sfchenry_) February 11, 2023
This is an excellent signing! Not sure he will stay with us in the championship next season though…

— Zebulon (@Zebulon1114) February 11, 2023
He was so good going forward. He just need to work on that final product. Live the man!!!

— Saints.Hubb (@SaintsHubb) February 11, 2023
Best player today. Real bright spark!!! ????

— ???? (@audioadamb) February 11, 2023
This lad is class.. shame we won't see him in our colours beyond the summer

— Doug Maclellan (@dougsdone) February 11, 2023
Bro played amazing and is still asked to go make the excuse for Bednarek's mistake

— Dom (@DominicMorganJ2) February 11, 2023
Best player on the pitch by far hard luck hopefully the others can play to his advantage took players on for fun

— Paul Wagen???????????????? (@wagen_paul) February 11, 2023
Very brave, young man to come out and chat like that, hope to see more of his talent out on pit h soon.

— Val Parker (@valparker99) February 12, 2023
He was one of our best players today. Reminded me of Mane but didn't give up when it went wrong. 2-1 down he tracked back from right wing to just in front of CBs to retrieve the ball. We are the stepping stone for him unfortunately so let's enjoy him whilst he lasts.

— Daz Humby (@dazboh) February 11, 2023