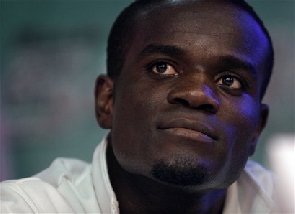 Former IBF Welterweight world champion Joshua Clottey believes the future of Ghana boxing is not heading in the right direction following some recent issues which has been ignored.
Ghana has been unable to secure a world title in recent years, with the last victory occurring in 2019 when Richard Commey claimed the IBF Lightweight championship, only to lose it shortly afterwards.

The Ghana Boxing Authority hopes to produce a new champion or witness a former champion regain a title for the nation.

However, Clottey believes that this vision is highly unlikely given the treatment of promising amateur boxers.

He shed light on the dire situation faced by these fighters in terms of their development and preparation for major championships.

Clottey emphasized that despite their immense potential, these boxers are being neglected, resulting in their inability to secure victories in subsequent competitions.
When asked about the future of Ghana boxing when it comes to winning titles, Clottey candidly told Adom TV, "For now, to tell you the truth No. That's the truth. Because amateur fighters are the future but when they go for the Commonwealth Games and even win medals no development plan and attention is given to them so they lose in the subsequent championships."

Clottey further explained, "For instance, there is just a single coach managing them and they don't even arrive on time because of poor preparations. They sometimes arrive for competitions two days away and go for weighing the next day. Such preparations will result in winning nothing."

He continued, "Because you need to arrive at least ten days before the competitions to be acclimatized to the system but it is not done. Meanwhile, if it was the Black Stars things would have been put in place for proper preparations through better sponsorships."

JNA/OGB