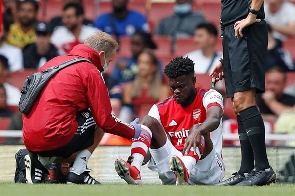 Arsenal manager, Mikel Arteta has disclosed that Thomas Partey will undergo Magnetic Resonance Imaging (MRI) scan after suffering an injury against Manchester City in the FA Cup on Friday, January 27, 2023.
Partey was replaced by Sambi Lonkonka at halftime in the North London side's 1-0 at the Etihad Stadium.

While explaining Partey's surprise change after the game, Arteta disclosed that the Ghanaian had discomfort and will have an MRI scan to assess the injury.

"He was uncomfortable to continue. (Saturday) or the day after he will have an MRI scan and see what he has," the manager said.

"We have at the moment the injury of Mo (Elneny). It is not possible to get him fit. Sambi has come in and has done well. It is true Thomas is a big influence and a big personality and in the second half we didn't have him," he added.
Nathan Ake's second-half goal was enough to sail Manchester City through to the next stage of the FA.

Arsenal are now left with two titles to chase: the UEFA Europa League and the English Premier League.

EE/DA