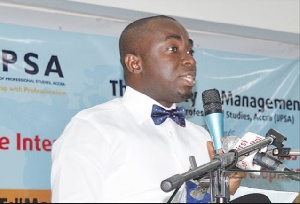 Mike Nyinaku, Chief Executive Officer of The BEIGE Group (TBG), a financial services provider, has called on entrepreneurs to take advantage of opportunities in this year's budget.
Mr. Nyinaku expressed confidence that the 2017 financial plan can lay the platform for business ideas to thrive, since one of its core focus is to provide an enabling environment for business growth and job creation.

Mike, who founded The BEIGE Group, one of the leading financial institutions in the country in 2008, described the 2017 budget as bold, and a wake-up call for entrepreneurs.

According him, 2017 will be a foundation building year towards the long-term growth and development of the country, adding: "This is a crazy but ambitious way to go as a country. The Entrepreneur Man of the year for 2016 hinted that there is opportunity for everyone in the budget.

There is also the need to continuously explore ways of expanding the economy to propel more Ghanaian businesses to become global champions as well as to help lift a majority of the population above poverty.

Touching on the success story of The BEIGE Group, which now has subsidiaries in Banking, Pensions, Insurance and Investment, Mike Nyinaku said his institution has been able to adapt and customise international credit delivery approaches to suit the unique circumstances of Ghana's formal and informal sectors.
He expressed the willingness of BEIGE to partner other stakeholders on any potential partnership that will inure to the benefit of the economy.

Dubbed "Sowing the seeds for growth and jobs," the 2017 Budget, which was delivered earlier this month, among other things, seeks to abolish; the 1 percent Special Import Levy, the 17.5 percent VAT/NHIL on financial services, and 17.5 percent VAT/NHIL on selected imported medicines that are not produced locally.

Other initiatives which are expected to stimulate the entrepreneurship landscape include, to embark on "One Village One Dam" campaign, targeting small to medium scale irrigation schemes to be identified and rehabilitated, whilst a "One District One Factory" initiative will also be implemented to ensure an even spatial spread of industries.

On the back of what Mr. Nyinaku described as a 'milestone' budget, he advised that Ghanaians must rise up to the occasion by creating enduring ideas that can become business giants in the near future.

TBG's evolution, when completed, will see every BEIGE office become a one-stop shop for Banking, Pensions, Insurance and Investment products and solutions.