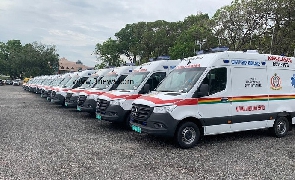 The Auditor-General report has stated that 26 ambulances for COVID-19 were undelivered as of November 28, 2022.
According to the report, the ambulances valued at US$4,049,460.12 were to be delivered by January 15, 2022, but were delayed due to some technical difficulties.

"We noted that the Ministry entered a contract signed on 15 December 2021 for the supply of 26 Toyota Hiace Deluxe Ambulances valued at US$4,049,460.12 out of which US$607,419.02 was paid to vide PV No. IPF 22-007 of 2 September 2022 is to be delivered by 15 January 2022. However, the ambulances remained undelivered as of 28 November 2022," the report on the audit of the government of Ghana COVID-19 expenditure for the period March 2020 to June 2022 explained.

It added also that "The Chief Director explained that the supplier applied for an extension to meet some technical specifications."

The Auditor-General also stated the delay in the delivery can lead to incurring additional costs due to the current economic conditions.

"Under the current economic difficulties, the supplier could apply for price variation to unduly increase the cost of the contract which could have been avoided if the ambulances had been supplied as scheduled," it added.
However, the contract has been extended to March 2023.

"Management has indicated that upon technical inspection by the World Bank, additional specifications have been recommended and the contract has, therefore, been extended to March 2023," the report indicated.

The A-G recommended that the Chief Director should ensure that the ambulances are delivered no further than the extended date of March 2023.

SSD/FNOQ