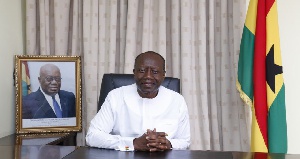 The Minister for Finance, Ken Ofori-Atta will be presenting the 2018 budget statement and economic policy of government on November 15,2017 which is expected to focus on Industrialization; Agriculture and consolidation gains made after almost a year in office.
This was communicated to Members of Parliament during the presentation of the Business Statement by the Majority Leader, Osei Kyei-Mensah-Bonsu on the floor of the house on Friday.

He read: "The Minister for Finance is expected to appear before the House on Wednesday, 15 November 2017, to present the Budget Statement and Economic Policy of the Government for the year ending 31st December 2018. The Business Committee therefore urges Members to avail themselves on the said date" the statement noted.

This would this administration's second budget after the 2017 statement and economic policy, which was christened "sowing the seed for growth and jobs".
Prior to the presentation of the budget, chairman of the Finance Committee of Parliament, Dr. Mark Assibey-Yeboah hinted that there would not be any new tax introductions to the budget.

There are strong indications that government may push ahead with some fiscal reforms that could lead to further cuts in tax rates as well as social intervention