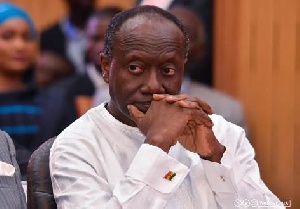 The Ghana Community Network Services Limited (GCNet) has presented a cheque for GH¢8 million as the final tranche of dividend for 2017 to government.
This brings the total dividend paid to government to GH¢17 million.

In 2016, the company paid an amount of GH¢18 million by way of dividends, which represents a decline of GH¢1 million in 2017.

Presenting the cheque, Executive Chairman of GCNet, Dr Nortey Omaboe noted that the government has about 30 per cent stake in GCNet and had received dividends and corporate taxes over the years.

He further explained that government has received millions of cedis in corporate taxes from GCNet, which demonstrates the company's commitment to live by its core tenets, anchored on integrity, innovation, professionalism and service delivery.

Dr Omaboe explained that, "As a pioneer of single window operator in the country from 2002, GCNET provides e-solutions to government by offering electronic platforms for revenue mobilisation and trade facilitation, easing trade processes with system availability nationwide."
The company, he noted, supported the government in revenue mobilisation by deploying a number of systems used by entities like the Ghana Revenue Authority, the Registrar-General's Department, and various stakeholders.

He announced that the company has so far issued over 2.5 million Tax Identification Numbers (TIN) to members of the public.

He observed that the payment of dividend by GCNet was timely given that Ghana needed a lot of revenue to accelerate the attainment of the Ghana beyond aid status.

Finance Minister, Ken Ofori-Atta pledged government's support to GCNet to remain as the model Private-Public Partnership (PPP) initiative that had continuously shown leadership in innovation and service delivery.

Dr Omaboe led a team of senior management, including the General Manager, Mr Alwin Hoegerle; Deputy General Manager, Mr Emmanuel Darko; and Strategy and Communications Manager, Mrs Aba Lokko.