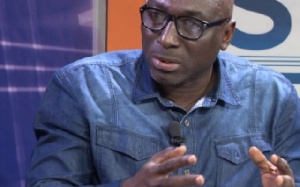 A member of the legal team of the National Democratic Congress (NDC), Abraham Amaliba, has rubbished assertions that Ghana's debt-to-GDP ratio has stabilized under the current government.
He says the country's debt profile "is rather ballooning".

Speaking on the weekend edition of TV3's New Day, Mr Amaliba said from a debt stock of GH¢122.6 billion, the New Patriotic Party (NPP) government has taken the stock to GH¢137 billion in just six months.

He said the re-adjustments of revenue target from 6.5 per cent to 6.3 per cent is enough evidence that the government is struggling to hold down the economy.

The legal practitioner cited how government expenditure was virtually non-existent in the mid-year budget review presented by Minister of Finance Ken Ofori-Atta last Monday.

"The reason why [government is] not spending is that there is no money," he stressed, "[and] if government does not spend, the economy does not grow."
He held exceptions to views that the government cannot be assessed in just six months, wondering: "If we cannot assess them, why are they appropriating to themselves some successes?"

But a deputy minister of state, Osei Bonsu Amoah, disputed Mr Amaliba, citing how government expended over GH¢22 billion on payment of arrears.

The Deputy Local Government and Rural Development said the re-adjustment of the revenue targets does not mean a deterioration of the economy especially when targets are better than previous governments', he said.