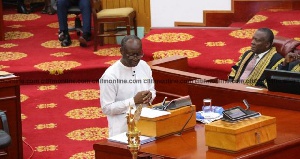 Finance Minister, Ken Ofori-Atta has confirmed that government's sector policy initiatives from agriculture sector, cocoa, education, health would be protected despite the announcement of cuts to government's expenditure.
According to the Finance Minister, policy initiatives such as the 'Planting for Food and Jobs', Free SHS, NHIS would not be affected by government cuts.

"..Despite the measures being taken to ensure that we maintain fiscal discipline, government remains strongly committed to growing the economy and delivering services to our people through strategic allocations and efficient use of resources.

Our flagship programmes such as Free SHS, NHIS, School Feeding, LEAP, Planting for Food and Jobs, will be protected." he told Parliament when he presented the Mid-Year Fiscal Policy Review.

Mr Ofori-Atta also stated that government has revised expenditures in a bid to strengthen revenue performance. The key revisions to expenditure include; 0.4 percent of GDP(GH?867.0m) adjustment to goods and services, 0.3percent of GDP(GH?553.2m) reduction in total transfers to other government units, which comprise all statutory and earmarked funds and 0.3percent of GDP(GH?683.0m) adjustment to capital expenditure.
Government has also reduced its 2017 budget deficit to 6.3 percent of gross domestic product (GDP) from 6.5 percent as they continue to press on with fiscal consolidation.