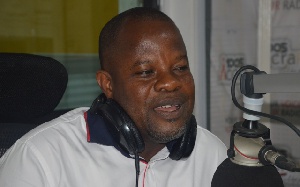 Chairman of the Abbossey Okai Spare Parts Dealers Association, Mr. Siaw Ampadu has disclosed that he will lead officials of the Ghana Revenue Authority to store owners in Abbossey Okai who do not pay VAT.
Explaining his stance, Mr. Ampadu said the approval of the 3% VAT Flat Rate by parliament last week is to be commended since government needs taxes to grow the economy.

He said it will be unfair for some businesses to pay VAT whiles others pay nothing warning that such care free attitudes will not be entertained anymore if traders want to enjoy business this year.

Parliament last week passed the Value Added Tax (Amendment) Bill, 2017, which would require all taxable retailers and wholesalers to account for the Value Added Tax (VAT) at a flat rate of three per cent.
The rate will be calculated on the value of the taxable supply unless the Commissioner General of the Ghana Revenue Authority (GRA) directs otherwise.

The Bill, taken through a certificate of urgency, seeks to amend the Value Added Tax Act, 2013 (ACT 870) to classify the supply of financial services, domestic transportation of passengers by air and supply of immovable property by a real estate developer as exempt supplies.