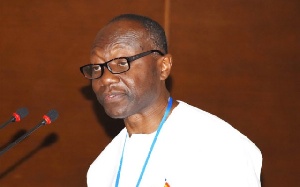 Proposed increases in the rate of value-added tax have been frozen, sources close to the government have indicated.
Joy Business sources say Finance Minister Ken Ofori-Atta's proposals to increase the VAT rate to meet revenue shortfalls were shot down by President Akufo-Addo at an emergency Cabinet meeting.

The president, sources say, was concerned that any such increases would impose a heavy burden on the general citizenry.

He, therefore, tasked Mr. Ofori-Atta to explore some other innovative revenue-generating measures to bridge the gaps.

Speculations and their attendant anger, especially on social media, about an imminent three and a half per cent increase in the VAT rate (17.5% to 21%) were rife late last week and the beginning of the week.

Close associate of the president Gabby Asare Otchere-Darko's Facebook asking whether people would support tax increases to enjoy free education, healthcare among others triggered suspicions tax increases were in the offing.
Finance Minister Ofori-Atta appeared to lend credence to the speculations when he dithered in answer to a question whether the VAT rate was going to go up.

"Until I go to Parliament, we wouldn't know," he responded, alluding to his anticipated appearance in Parliament on Thursday to present the mid-year budget review.

A massive opposition to any proposed VAT increases pervaded both social and traditional media, prompting an emergency Cabinet meeting to consider the proposals.

At the meeting, sources, the president clearly appeared unconvinced by arguments for the proposals and therefore asked the Finance Minister to find a way other VAT increases to make up for the shortfalls in revenue.