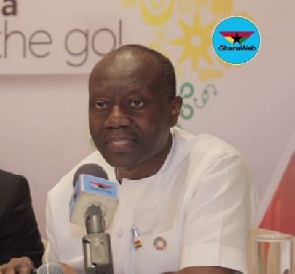 The Finance Minister, Ken Ofori Atta, will deliver the 2019 budget and policy statement of the government on November 15, the Speaker of Parliament Prof. Aaron Mike Oquaye announced Tuesday.
"This hopefully, will be followed by the post-budget workshop and the consideration of the sectoral budget estimates by the committees of the House," he added.

The reading of the budget comes at a time over one million Ghanaians, according to the Centre for Socioeconomic Studies (CSS) lost their jobs since 2017.

The job cuts span the industrial, banking and mining sectors as well as the media and services sector.

Also, according to a 2015 labour force survey, over one million Ghanaians from age 15 and older are unemployed, representing a total unemployment rate of 11.9 per cent.

Of this number, about 714,916 are females, representing 57.2 per cent and 535,997 for males representing per cent.
Speaking on Morning Starr last Thursday, the Executive Director of the Institute for Fiscal Studies (IFS) Professor Newman Kwadwo Kusi said he expects the 2019 budget to focus on job creation.

"I want to see that overall, the budget is designed to create jobs. We are looking at a budget that will grow agriculture and manufacturing to create jobs," Professor Newman Kusi said on Morning Starr Thursday.

The government in an effort to tackle the country's teething unemployment challenge, introduced the Nations Builders Corp (NaBCo) among other measures to temporarily address the situation, security experts warn could lead to a Ghanaian version of the 'Arab spring'.

The government has recruited over 100,000 on the NaBCo programme under seven different modules for a monthly stipend of GH¢700.

"The NABCO initiative is a very good programme and initiative," Professor Kusi told the host of Morning Starr Francis. "However, we must ensure that after the three years, the workers get something doing from the programme."
Professor Kusi also advised the government to cut down on the number of the social interventionist programmes it undertakes to ensure value for money.

Barely two years in his administration, President Akufo-Addo has rolled out about five social interventionist programmes including, but not limited to one district, one factory, free Senior High School, Planting for food and Jobs, Youth in Afforestation and NaBCo.

"Every time the government wants to undertake major programmes, they have to go out and borrow and this is because we hardly take into consideration long-term plans for programmes or projects we embark on," bemoaned Professor Kusi.

"All the policies the government has launched in the last year and a half or so are very good but it looks like the government is taking on too many programmes that are not well designed to create a link between agriculture and manufacturing industries," he stressed.