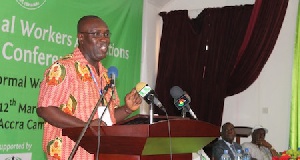 Thu, 23 Mar 2017 Source: The Finder
The Trades Union Congress (TUC) has welcomed the first budget of the ruling New Patriotic Party as a good budget but has called for clear employment targets to be set to guide government to achieve growth.
"We find these job creation initiatives very positive and refreshing; we will support government to ensure successful implementation of these employment creation initiatives, "the Union said.

In its response to the budget which was read early this month, the Union said the budget was an ambitious one that sought to address the challenges confronting the country.

"We welcome the job creation initiatives, in particular, but we need to set clear employment targets to guide our actions. We will work with government and other stakeholders to support both the growth and jobs initiatives," the TUC said.

The Union further noted that the budget was consistent with President Akufo-Addo's statement that "he is in a hurry to return Ghana to a growth path that will bring prosperity to all Ghanaians, irrespective of their sex or location."

"We believe that the economy must be set on a growth path, as soon as possible but the fundamentals must be right to sustain a rapid economic growth," the TUC stated.

The budget, it pointed out makes a bold commitment to private sector development as a means of creating employment.
According to the Union, "in line with the philosophy of the NPP, the private sector has been assigned many responsibilities in this budget at least in respect of job creation; there have been some measures to ease the constraints on the private sector."

"The commitment to improving the business environment and reduce transactions cost for the private sector are commendable," it said

On taxes, the elimination of some taxes, the Union noted would spur the growth of businesses and raise the disposable incomes of Ghanaians.

"This is the way to go because blanket tax reductions do not automatically lead to job creation even as they reduce government revenues.

It called on government to spell out the modalities (including detailing out the "other incentives") for qualifying businesses to benefit from the tax concessions as soon as possible. Local businesses that hire young people must benefit from these incentives.
Source: The Finder