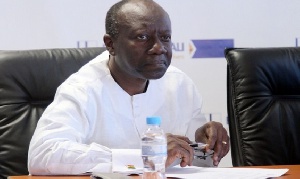 Finance Minister, Ken Ofori Atta, has disclosed that the surest way to achieve fiscal consolidation and strengthen revenue performance is for the country to demonstrate vigilance in revenue mobilisation efforts.
"We need to be vigilant about revenue measures, with regard to a commitment not to spend beyond our means, I think that is the defining difference between most governments," he told B&FT in an interview.

According to the Finance Minister, what has happened in the past six months demonstrates a firm understanding of how revenue sources come to government and also reflects the performance of its main revenue agency, the Ghana Revenue Authority (GRA).

"Enforcement measures have been done and we expect that to help the pick -up. The key issue for all of us is beginning a new dialogue of spending within the limits of what we have and being very clear that we want productivity measures, we all as citizens must protect the public purse; that's when we will get the type of revenue that we need to get."

Presenting the mid-year fiscal policy review in Parliament on Monday, Mr Ofori-Atta also stated that government has revised expenditures in a bid to align with the revenue flow.

The key revisions to expenditure include GHC867.0m reduction in the amount spent on goods and services, GHC553.2m reduction in total transfers to other government units, which comprise all statutory and earmarked funds and a GHC683.0m reduction in capital expenditure.
Total revenues and grants for the first half of the year amounted to GHC17.5 billion against a target of GHC20.5 billion.

On the public debt performance, he explained that; "Bringing debt down is quite difficult, your challenge is whether to strengthen growth so that your GDP increases, that then really helps with the issue of debt sustainability and that is what we are trying to do.

In terms of the quantum elimination of debt, it is very difficult unless there is debt forgiveness which is not happening in this world, so the solution has to do with re-profiling, making sure there is GDP growth," he added.