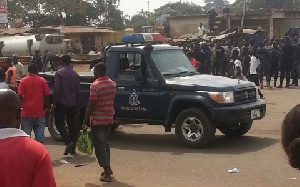 Thu, 23 Mar 2017 Source: GNA
Fresh charges have been preferred against suspects allegedly involved in the Bimbilla clashes which resulted in fatalities and destruction of properties.
Meanwhile, one more person had been arrested and arraigned.

The accused persons are Mohammed Kadri, a Casual worker, Sulemana Mohammed Sheriff, a Store Keeper and Yakubu Zubieru, a Tractor Operator and Iddi Abudulai aka Sam, an electrician.

They have been charged with conspiracy to commit a crime to wit murder and three counts of murder.

Their pleas have not been taken.

The court presided over by Mr. Ebenezer Kweku Ansah refused to grant bail and urged defence counsel, Mr Abu Juan who represented the accused to go further if he wants to secure bail for the accused.
The court urged the Police to secure autopsy reports of the deceased.

Prosecuting Detective Chief Inspector Simon Apiorsornu said the Police was conducting further investigations into the matter.

The case as presented by prosecution was that the accused persons are natives of Bimbilla in the Northern Region.

According to the prosecutor after the death of Naa Abariga, the overlord of the Nanumba Traditional Area in 2003, there had been series of clashes in the area resulting in several deaths.

Prosecution said on February 9, this year, the regent of Bimbilla was enskinned as a Warrior Chief but after the ceremony, the three accused persons together with others, now at large armed themselves with offensive weapons and petrol and set 21 houses ablaze.
According to prosecution, they also attacked the household of the three deceased, namely Nangtomah Awadu, Taiba Alhassan and Mariam Mohammed.

Prosecution said Awabu and Taiba who were fired at, died instantly. Mariam who also sustained gunshot wounds was rushed to the Bimbilla Government Hospital where she was admitted but died the following day after being referred to the Tamale Teaching Hospital.

The prosecution said the accused persons were "positively identified" by witnesses by a combined team of Police and Military personnel stationed at Bimbilla and brought to the Criminal Investigation Department headquarters.

Prosecution however mentioned that the deceased have since been buried and the Police have not yet to receive their autopsy reports.
Source: GNA