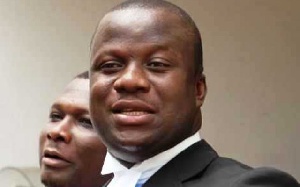 Zakari Sumani, grandson of the Nakpa Naa Salifu Dawumi, has stated that no government officials within the Akufo-Addo administration is meddling in the chieftaincy affairs in Bimbilla.
According to him, the officials have rather decided not to interfere in the chieftaincy issues in the area, a development they have issues with because they wanted the officials to add their voice to happenings in that part of the country.

His comments come on the heels of a call by the regent of Bimbilla, who through his spokesperson, Tahidu Osman Kikaa, asked government officials not to meddle in chieftaincy matters in the area.

For him, if there is a need for any intervention, government must do so without bias.

Mr Kikaa made these comments in a press conference on Monday, October 16, days after the burial of Nakpa Naa Salifu Dawumi in Bimbilla after they had fiercely resisted earlier.

According to him, the Nakpa Naa's family disregarded orders of the Northern Regional Security Council (REGSEC) and went about firing musketry during the burial, which resulted in the firing of gun shots from other parts of Bimbilla, creating chaos.

"This violation happened in the presence of the security men in their numbers who were apparently disregarded or acting in concert with them. What's more, the family has promised to continue such acts in the coming days," he stated.
According to him, "It is at the very least, intriguing that the Nakpa Naa's family will defy an explicit directive of the Minister in the presence of the security forces. Indeed, the security claims to be acting on orders from above. It is highly improbable, if not all together impossible, that the Northern Regional Minister has no knowledge of these violations at the Nakpa Naa's palace. In fact, what is more probable is that the Minister may have clandestinely encouraged them to. The deafening silence of the Defence Minister, who happens to be the Member of Parliament for Bimbilla, also raises more eyebrows. We urge these officials to steer clear of the chieftaincy matters in Bimbilla."

But speaking in an interview with Chief Jerry Forson, host of Ghana Yensom on Accra 100.5FM on Tuesday, October 17 Zakari Sumani said: "No single government official attempted involving himself, not even a single call came from any government official. No single government official called us.

"All these people making the noise about government officials' involvement – ABA Fuseini and Agalga, and others – they rather involved themselves in the matter in 2014."

He added: "No single official in this government has stepped foot in Bimbilla, except the IGP who came to deliver a speech."

He further dispelled rumours there is tension in Bimbilla following the burial of the late Nakpa Naa.

"There is no chaos in Bimbilla, everything is fine and I will urge the media to come here," he added.