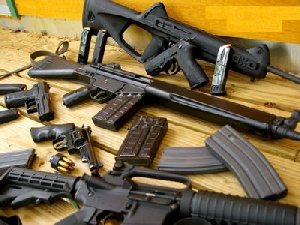 There were sporadic firing of gunshots amidst drumming and dancing in the palace of the late Nakpa-Na Salifu Dawuni in Bimbila Saturday evening, 3news.com's correspondent in the Northern region has confirmed.
"Yes, the firing of muskets and drumming is ongoing and I can hear it from here, it's unfortunate but it is true", the District Security Council and the Nanumba-North District Chief Executive, Abdulai Yakubu corroborated what our correspondent Zubaid Ismail reported.

Due to the precarious situation in the area, such an activity should be carried out with the knowledge of the head of DISEC, but he tells 3news.com nothing of that sort was communicated to him.

Despite confirming the gunshots and drumming, he is unable to tell if it has anything to do with the enskinment of a regent, a ceremony the family of the late chief have been asked to suspend as a result of the volatile situation there.
But checks by 3news.com at the Regional Security Council also reveal that the council in a meeting in the evening on Saturday, October 14, 2017, reviewed the suspension directives and the family was granted permission to fire muskets and drum on the third and seventh days funeral rites of Nakpa-Na Salifu Dawuni.

These activities are expected to be performed under heavy security to forestall any unforeseen happenings.

REGSEC, 3news.com gathered, insisted on its decision not to allow the family to enskin a new regent during the meeting despite being asked by the family to soften its stance because the family said they needed a head to lead them in performing the funeral rites.