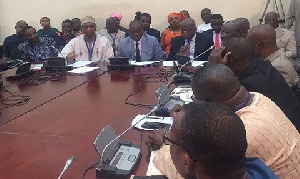 The family of the late chief, Naa Salifu Dawuni, has cited the Minority in Parliament for being behind the recent tension in Bimbilla in the Northern Region.
The burial of the late chief last Wednesday instead of the originally planned Thursday stirred controversy with the Regent of Bimbilla accusing the Minister of Defence, Dominic Nitiwul, and Interior Minister Ambrose Dery of backing the Nakpa gate.

The Regent wanted the two summoned by Parliament.

But at a press conference on Thursday, the family of the late Nakpa-Naa rather pointed accusing hand at the Minority NDC in Parliament "whose acts of commission and omission," they said, "precipitated and fanned the current chieftaincy crisis during their regime".

The family said the NDC is only trying to "find scapegoats in some officials of the ruling NPP government".

They expressed gratitude to the government and its leader, President Nana Addo Dankwa Akufo-Addo, who is said to have ordered the release of Nakpa-Naa's body to his family, for "demonstrating that they are truly an embodiment of the rule of law and natural justice and a respecter of the fundamental human rights of every citizen of this country".
The family mentioned NDC Member of Parliament for Builsa North Constituency, James Agalga, who was a Deputy Interior Minister in the previous government, for the tension that surrounded the prior arrangements then of the burial of the late chief.

"We recall there was a pronouncement made by the Hon. Agalga, during his days as the deputy interior minister, banning with impunity, a section of butchers in Bimbilla from practising their trade.

"Without any basis, the pronouncement was subsequently enforced by the DISEC of the Nanumba North District.

This was a case of the violation of their economic right with economic vulnerability of the innocent butchers as only a consequence.

"It has therefore become abundantly clear that Hon. James Agalga and the rest of the minority in parliament are bent on completing their unfinished executive fiat to halt the burial of this noble chief."