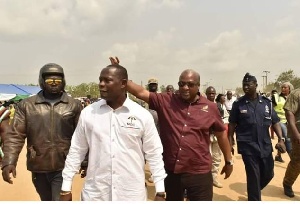 Sat, 12 Jan 2019 Source: Daniel Kaku
NDC Executives and members of Ellembelle Constituency in the Western Region have declared total support for former President John Mahama as the right candidate for the party in its forthcoming elections.
The former president met party delegates and supporters at Kamgbunli Islamic community park on Tuesday, January 8 as part of his five-day tour in the area.

He is among other aspirants within the NDC to have submitted nomination forms to contest the flagbearership race.

Former Chief Executive Officer (CEO) of the National Health Insurance Authority (NHIA), Sylvester Mensah, Nadowli Kaleo MP, Alban Bagbin, Dr. Ekwow Spio Garbrah; a former Trade and Industry Minister; Former Vice Chancellor of the University for Professional Studies, Accra (UPSA), Prof. Joshua Alabi, Goosie Tanoh and Nurudeen Iddrisu have also filled for same position.

Addressing delegates in the Constituency, Chairman of the party, Alex Kwame Mahama revealed that John Mahama during his era laid good achievements in the area thereby urging delegates to vote massively for him in the upcoming elections.

"We the delegates in Ellembelle Constituency will vote 100 per cent for Mr. John Mahama to send a signal to the NPP that Ghanaians have missed Mr. Mahama and we want to tell Mr Mahama that he doesn't have any problem in Ellembelle here, we are behind him", he stated.
Mr. Alex Mahama highlighted some of the achievements of the former president in the Constituency.

He mentioned the construction of Atuabo Gas Processing Plant, ENI Gas, the construction of Agona Nkwanta to Elubo highway, Esiama Water Treatment Plant, construction of major township roads in the area among others.

He also expressed disappointment at the government of the New Patriotic Party(NPP) for abandoning the Free Port project Mahama started adding that party members should work hard to bring the NDC party into power to continue the unfinished projects.

"In fact Ghanaians are crying for John Mahama to come remove them from the economic hardship the Akufo-Addo government has brought, today Ghanaians are suffering and we are in Satan's fire. We can't buy food stuff and we cannot also buy fuel", he lamented.

Former President John Mahama thanked the Constituency Chairman for the kind gesture and asked God to bless him abundantly.
He said the party has learnt its mistakes and will not repeat the same in 2020.

Mr. Mahamma further urged the NDC to remain united in order to retain power come 2020.

He used the opportunity to advise party folks to remain focus and keep the interest of the party at heart.

He said the President should desist from saying that he would not be responding to presidential aspirants, adding that the aspirants are just carriers of messages of suffering Ghanaians.

"So he should listen before it is too late because Ghanaians are really suffering", he said.
Touching on the Free SHS Implementation

The former president observed that the current administration is seeking to 'cover-up' the non-performance of its appointees with establishment of Free SHS.

"Today if you say you are hungry, they say we have given you free SHS; if drivers say they are unable to afford fuel, they say we have given ySHS; if drivers say they are unable to afford fuel, they say we have given you free SHS so keep quiet; farmers who complain they cannot purchase fertiliser for their cocoa, they say keep quiet we have given you free SHS…if you complain of anything they say we have given you free SHS", he disclosed.

He further added that free SHS has become a burden on government thereby likening it to a traffic light.

"I will abolish the double-track traffic light when I come back in 2021 and ensure that all our wards attend school at the same time", he said Mr. Mahama underscored the need for government to prioritise its needs and ensure that there is development in other areas and not the Free SHS alone.
"It is written that man shall not live by bread alone…there is the need to prioritise so that government will not shirk its responsibilities hiding under free SHS", he stressed.
Source: Daniel Kaku