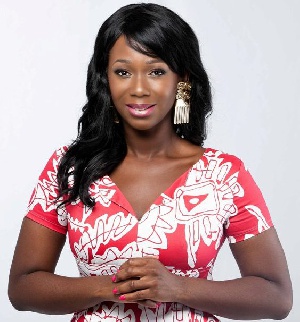 Thu, 14 Nov 2013 Source: totalshowbiz
Actress?and TV presenter, Ama K Abebrese has a loud voice, loves to talk and enjoys doing that so has no problem at all when people describe her as a talkative. In fact, the Sinking Sands actress aka Ama K confessed to the Graphic Showbiz last Tuesday that she is 'a real talkative' (someone who talks too much) and does not regret for having such a trait which she said has "made her what she is today".
"Being branded a 'chatterbox' is no big deal to me. I have heard that since infancy because my mother, siblings and friends would always say 'Ama you like talking too much' but that didn't deter me from doing that.

"There are many people who would seize the least opportunity to make others hear them sing because they have good voices. I don't have that voice for singing but I can talk and I am proud to do that".

Ama K debunked the belief that most talkatives tend to be braggarts. "That is not true. Being a talkative is not a bad trait. I believe it could be nurtured to build one's confidence.

"However, I don't talk because I need to say something. I have always had the passion to be a TV presenter right from childhood because I knew I had the tool which is talking to help me do that and I have no regrets for that. It has actually helped to boost my confidence and I am proud of that" she added.

Ama started TV broadcasting at an early stage when she was a member of the Youth Culture Television (YCTV) back in London.

"I was drawn to broadcasting like a magnet since then and I guess it is due to the fact that it is one of those careers where I'm able to have a voice and be heard because I have a loud voice and ready to share with as many people who want to listen.
"My new role as a presenter on New Day on TV3 has really challenged me because I am constantly learning and evolving. I am able to adapt to different situations and places without losing my core essence and I think I have aptly put that into practice. My goal when I started my career was not to become a so called 'star'. Recognition comes with it but that is not my ambition.

She however admitted her most embarrassing moments have been when she had to pronounce local names on air which she is not very familiar.

"Sometimes, I get it wrong and that is not very pleasant. You see, no matter how much you practice, there is the odd slip of the tongue and it has happened to me on a few occasions.

Touched by the need to educate the youth on skin bleaching, Ama said she is embarking on campaign dubbed I Love My Natural Skin Tone to encourage young ladies to be proud of their skin colour.

"All these billboards that project women with fair skin as beautiful are what is driving most of our ladies to bleach their skins. This campaign will imbibe in the black woman the need to be proud of her skin. Our women must know that they are not less human or intelligent because they are black. We are beautiful in our own way" she stated.

The AMAA's 2010 Best Actress said she is currently working on a number of projects among which is the new movie, Double Cross which also features John Dumelo and Adjetey Annang scheduled to be released early next year.
Source: totalshowbiz