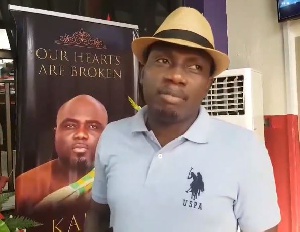 Controversial relationship counselor, Reverend George Lutterodt has expressed concern about the life of Valentina, wife of the late broadcaster, Kwadwo Asare Baffour Acheampong (KABA) after his burial and subsequent mourning period.
And he is already thinking of finding her a new husband for her after she completes the mourning of KABA.

As customary in many parts of the country, married people are supposed to observe a one-year period of mourning after the demise of their spouse before they move on with their lives. Many choose to remain single after the year of mourning. But according to Counselor Lutterodt who describes the mourning period as a deformity, it will be do Valentina a lot of good if she finds someone to 'manage' her after the funeral.

He has therefore volunteered himself as the one who will find this 'manager' for KABA's wife.

"I will make sure that your wife after a year will marry another husband. She won't marry someone like you, but exactly a year after this, your wife must marry again because it is very painful. Young man like this who killed you? If somebody killed you please kill them…you can't marry somebody's daughter like that and leave……….I'll protect your wife….after one year, give your wife the best husband, better than you because this girl needs management after the funeral…", he said during one of his visits to the Multimedia Group after KABA's death.

KABA, host of Asempa FM's political talkshow, Ekosii Sen, died on November 18, after he was rushed to the Korle-Bu Teaching Hospital following a short illness. He was survived by his wife of a just a little over one year and their seven-month old baby girl.
The 37-year-old was buried at the Osu Cemetery on December 16 after a burial service which was well attended by the general public, top politicians and other dignitaries.