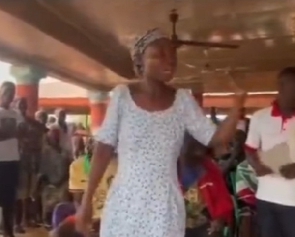 In a video circulating on Twitter, a Ghanaian lady has been captured condemning the ruling New Patriotic Party (NPP) government with music for what she considers a trail of broken promises and disappointing governance.
Using Black Sherif's 'Oh Paradise' song as the backdrop, the lady expresses her frustration with the government's failure to fulfill its commitments and the resulting hardships faced by ordinary citizens.

She remixes the popular song whiles heaping criticisms on the government through the lyrics. She does not hold back in lambasting the government for what she called misleading Ghanaians into voting for them by making promises that have seemingly gone unfulfilled.

She highlights some of the pressing issues faced by the citizens, particularly lactating mothers, who are struggling due to economic hardships.

"NPP, for this one you didn't try, all the promises that you made you have to remember, things have become difficult for lactating mothers, they cannot pay their rent …"

In her closing line, she offers a piece of advice to politicians, focusing on the upcoming 2024 elections. She goes on to encourage former President John Dramani Mahama to consider contesting again, as well as urging one of the 2020 presidential candidates, Rev Kwabena Andrews, popularly known as Osofo Kyiriabosm, to contemplate his intentions to run for office.
She believes that the NPP government's perceived failure has opened up an opportunity for these leaders to consider vying for power once more.

"We are about to vote, so if Mahama wants he should try, or Kyiriabosom, because now you have mistreated us but we have forgiven you because that is not your 'fault.'.

"We voted for you so you are doing with us what you please, upon all the promises, Ghanaians are suffering, we are sitting on money but we are hungry. We really struggled to go and vote."


Ladies and Gentlemen, i present the official song for election 2024 campaign season pic.twitter.com/HKbbYF9L7v

— Ameyaw Debrah (@AmeyawDebrah) July 20, 2023
AM/SARA
Watch the latest episode of the Lowdown on GhanaWeb TV below:





You can also watch the newest episode of Legal Agenda on GhanaWeb TV below:

Watch the latest edition of BizTech and Biz Headlines below:








Share your news stories and ideas with GhanaWeb


To advertise with GhanaWeb