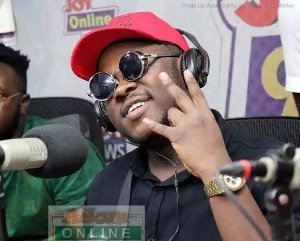 AMG Rapper Medikal has issued a press statement on the KNUST Demo which happened today.
Just like his rap, AMG Medikal, has dropped some 'beyond control' lines about the ongoing KNUST demo and it's already trending for the same reason why his mind-blowing lyrics are always trending.

The "Afei na sika na nya orgasm, my money come" rapper took to twitter and wrote:

"KNUST kindly eradicate those actions please ".

But fans have something else to say about his tweet and about his grammatical errors.

Medikal's girlfriend, Sister Derby, who reports have it that they have separated, is a product of KNUST so we understand why the rapper has the school at heart at this time.
The rapper hit back at fans for trolling him massively following his grammatical mistakes.

May be his next girlfriend might be there at the moment so those things must be eradicated from KNUST.


Eradicate eradication gbemi ????????????????, abowa, brofo nunu ????????????????????

— MEDiKAL (@AmgMedikal) October 22, 2018