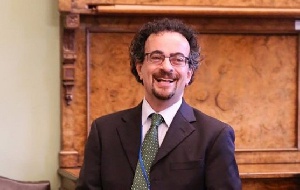 Former United Kingdom High Commissioner to Ghana, Jon Benjamin has joined in the trolling of the controversial televangelist, Bishop Daniel Obinim over the potency of his sticker.
Members of Bishop Daniel Obinim's church in recent times have been giving testimonies of what the sticker has done for them which has generated series of controversies on social media.

In a rare tweet, the former UK High Commissioner said:" Yes, I stuck an #Obinim sticker on my head last night and when I woke up this morning I had two heads ….. but no brain.

This is not the first time he has come after Obinim.

It would be recalled that in 2016, the controversial pastor on live TV claimed he could transform into a snake, enter any room, bite his target and disappear after the mission.
Boasting of his spiritual powers, Obinim said he once transformed into a tiger standing side by side with Jesus who had also transformed into a lion.

But days later, his TV channel OBTV was taken down by the National Communications Authority (NCA) over breaches but Jon Benjamin tweeted:" "Oh no – Obinim's TV channel has been taken down? Maybe he can reappear in animal form on discovery channel?."


Yes, I stuck an #Obinim sticker on my head last night and when I woke up this morning I had two heads ..... but no brain. https://t.co/ixsSSGNGnk

— Jon Benjamin (@JonBenjamin19) April 2, 2018