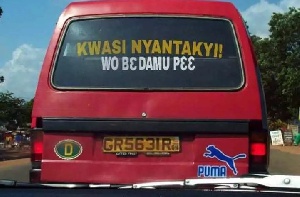 Days have passed since the order for the arrest of GFA president, Kwesi Nyantakyi by the president of the republic, Nana Addo Danquah Akufo-Ado.
We know, that the arrest was after the president watch parts of the explosive 'Number 12' video by investigative journalist, Anas Aremeyaw Anas which implicated the GFA president of requesting a bribe from a Moroccan football investor.

So far, the GFA president had reported to the headquarters of the Criminal Investigation Department (CID) for investigations.

He has been bailed and currently assisting with investigations.

There are suspicions that the powerful man behind Ghana football could have his case die with the wind.
But this is never the conviction of this taxi driver who has a bold inscription at the rare glass of his taxi.

This inscription, captured by a driver, read "Kwasi Nyantakyi! Wo b3 damu p33"; to wits, "Kwesi Nyantaki, you will definitely sleep in jail".

For a driver and probably a lover of sports to have had such an inscription at the rare glass of his window proves how much Ghanaians are concerned about the Nyantaki scandal and even the yet-to-be-aired 'Number 12' video by Anas.

The GFA boss who has been accused of transacting some fraudulent deals following Anas' undercover investigations was picked up by the police CID upon arrival from CAF assignments in Morocco and Egypt for questioning. President Akufo-Addo on Tuesday issued an immediate arrest order on Kwasi Nyantakyi for allegedly using his name and the seat of government fraudulently.