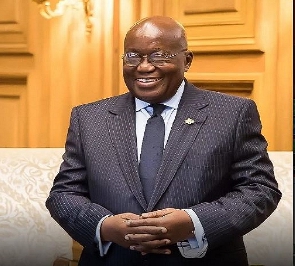 In this case, too much humility muffles the great stories of exceptional performance, which indeed must be told and taught and discussed. I am unable to understand how people can sit in the comfort of their hideouts, cowards as they are, to spew unacceptable accusations at the President when the massive developmental jobs that he has undertaken in his tenure so far have not only been monumental, but legendary in every dimension of the word.
The charlatans, though, have taken his humility for granted for far too long!

Such determination to make a difference in the lives of Ghanaians cannot come from someone, who is not dedicated to his job as president of Ghana. We have seen the incompetence of past presidents and the unacceptable ballooning of the cost of projects like that which showcased the Mahama presidency!

The continuation of the Amasaman project to Nsawam is befitting of a fairytale that only "abra-cadabra-ed" when the time was right; and of course the time was just right with the Akufo-Addo tenure! If you ask me, there are uncountable projects that are hidden from the direct view of such lazy propagandists who carry propaganda like crosses on their shoulders and swear by John Mahama, their newfound deity that they worship blindly.

This is a story that will be told henceforth, for those that see the truth and are unable to speak to it are like little dumb satans! On Saturday, July 29, 2023, en route to Kumasi, there was a ghastly accident along the Dadieso – Breku stretch of the road. Traffic had accumulated to the extreme and there seemed no way out as the police were trying to cut through the Taxi that had driven directly under a moving Burkina Faso- bound trailer, killing all on board.

Anyway, I took my chances through the junction before Dadieso as I scouted for a detour that would exit far ahead of the accident. And guess the surprise! Oh my GOD, I was gobsmacked! The road I found was well constructed with bitumen all the way except for a short distance. The contractor's machines were on the site. It was actually a forest road that serviced many communities in hamlets and
villages dotted along the way! What! In fact, Honourable Kwasi Amoako-Atta, Minister for roads and highways, has been doing a fantastic job from the onset and all the suffering he has gone through to bring road development to where it is today must not be in vain!

There are many initiatives that are going on. The President is putting our Cedis exactly where they need to be spent. Of course, the naysayers, haters, and idiots like multimedia and TV3 will join dirty, wimpy commentators to talk nonsense and make unjust submissions about Ministers hoarding money and so on. That will not deter us from speaking truth to the Akufo- Addo story. Dastards as they are, they will not dare pin their actual names to the comments lest they be called out and shamed!

Dear President Nana Akufo-Addo, you have done a marvelous job. You have taken us through a pandemic in peace and total safety with the most minimal of casualties. You have burnt the midnight oil while we all slept as you tried to turn the economy around even when the world came collapsing, bringing us down with it. Of course, ALLAH guided you! Ghanaians quickly forgot and flipped their lips while they snarled, forgetting that you gave them free water for two years and electricity for some nine months, a show of empathy, which no other nation

was blessed with; not even America or European nations! Now, by the grace of ALLAH, your sleepless nights are beginning to show results with the turning around of the economy!

I hope this time round, Ghanaians will not forget! I am sure this time round Ghanaians will not forget! In fact, I am totally trustful of the judgment of Ghanaians henceforth, and they will never forget! Your legacy will be cemented in GOLD. You are the fantastic president Ghana has waited painfully long to have. You are like gold, the more you are struck the brighter you glow. Thank you!