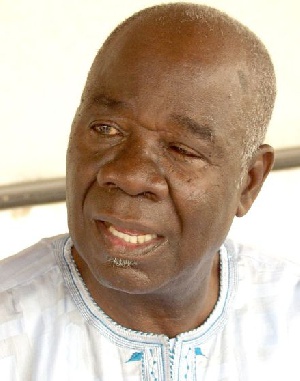 Oh, Apino, he exited the stage last Tuesday (February 13) at a fairly decent age of 84.
May his soul and body rest in perfect peace!

Unlike so many politicians of his generation, Apino aka Akenten Appiah Menkah who very intimate pals and allies called Ken, in recent years, came to enjoy nuch more respect and admiration from me because of the time he found to write a memoir - The River ln The Sea.

In the book, Apino makes meticulous effort to chronicle events that led to the split of UP/PP political tradition into PFP and UNC in 1979, a division that cost the party the 1979 election.

Until Apino's work, that unfortunate history had largely remained a mystery. Except for Prof. Adu Boahen who had made a passing reference to the political strife in his famous JB Danquah Memorial Lecture in 1988, none of the major actors in that historical drama which comprised some of that generation's finest statesmen such as great Kwabena Pie Victor Owusu and avuncular Paa Willie Ofori Attah, committed a word on paper. What a shame!
With the benefit of hindsight, l believe the brave soldier, Akwasi Afrifa of Asante-Mampong, who was neck-deep in that affair would have published a book about it had he not been executed by the AFRC.

I have tremendous respect for Afrifa, General A.K.Ocran and Osagyefuo, yes, l mean President Nkrumah, for the great pains the three of them took to tell their side of events in 1966; Afrifa wrote 'The Ghana Coup' whilst General Ocran published 'The Myth Is Broken.' And despite heart aches and breaks Osagyefuo suffered over the '66 coup in his base in Conkary, Guinea, he stiil managed to respond to Afrifa and General Ocran in his 'Dark Day in Ghana.'

As someone who sat on the ringside of that 1979 fratricidal political bout, l salute Apino for taking a cue from those three heroes (Africa, General Ocran and President Nkrumah) of our republic and telling us what went on.

It's great bequest he'sleft nkyirima, future generation. God bless you, Akenten Apino!
As a journalist, l had a chance to sit down one-on-one with Apino, both at his Kumasi-Ridge home and at his Apino Soap factory at Asokwa-Kumasi.

He called me Reporter and grew increasingly fond of me after he had learned that l were the younger brother of his very good friend, former Chief of Staff, Kwadwo Mpiani, who Apino told me had prodded in the mid-1970s to enter politics; my brother, in fact, acted on Apino's promptings and first became a Councillor (what's today Assembly Member) and later entered third republican parliament in 1979 as MP for Mampong South.

A lawyer by profession, Appiah Menkah served a deputy minister during the second republic. But rather than returning to legal practice after the fall of Busia's government in 1972, he went into business and oil palm farming, which led him to set up a factory in Kumasi to produce soap. At one point, his Apino Soap was a household name throughout Ghana.

By dint of hardwork, he emerged as a titan of industry earning him the presidency of Ghana Manufacturers Association which later transmuted to Association of Ghana Industries.
In the mid-1980s, Apino was in jail for a short spell over a land dispute in the Nzema area of the Western Region, a conviction some felt had been orchestrated by the PNDC to diminish his spirits and in particular his clout within business and industrial communities. But the jail time could not break Apino's spirits and resolve as he continued to play pre-eminent roles in the socio-political and economic circles of the country.

He was one of the chief patrons of Danquah-Busia Club which evolved into New Patriotic Party. And he worked so hard with some young Asante intellectuals and professionals in the early 1990s to institute an annual festival in the Ashanti Region (Asante Congress) like the Bakatue and Aboakyire festivals in the Central Region; after about three successful congresses during the reign of Otumfuo Opoku Ware Ii, not much had been heard about the Congress in the last decade and half.

For all his national stature and standing, Apino's foremost love had always been his native Aboabogya in Kwabre No.1, where he had a palatial country home which he visited very frequently. He called himself the Aboabogya Boy.

And he treasured his alma maters, Abusco at Kyebi and the highly exclusive Adisadel College in Cape Coast.
Apino was easygoing. Any time he ran unto me on the streets of Kumasi, he won't start a chit-chat until he had his arm around my neck. He cherished family and friends and loved leisure and bantering and sumptuous meals and good drinks.

Ghana has lost a patriot. Asante has lost a fiercely loyal son. And NPP has lost a bulwark, oh, yes, a tower of strength of Domo party had collapsed creating an unfillable void.

Damrifa Due Apino! Damrufa Due, Due Akenten!

Adieu, Aboabigya Boy!