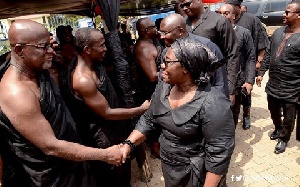 Vice President Dr Mahamudu Bawumia joined other members of the New Patriotic Party (NPP) to observe the one-week memorial of Mr Akenten Appiah-Menka, a founding father of the party.
"I am deeply saddened by his loss and pray the almighty God to grant him peaceful rest. May the Lord comfort the bereaved family.Nana due!" Dr Bawumia later posted on his Facebook wall after the event.

Mr Menka who was a private legal practitioner and businessman is also known for producing the popular Appino soap.

He was a member of the Constitution Review Commission which was established by the Mills administration.
Mr Appiah Menka is also the Chairman of the Ashanti Oil Mills, Appiah Menka Complex Limited and Appiah Menka Plantations.

He was also the Chairman of the Council of Elders of the NPP in the Ashanti Region.