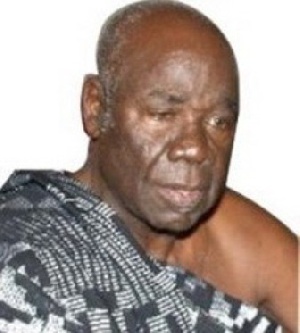 An aspirant for the Chairmanship position of the New Patriotic Party, Stephen Ntim has sent some words of comfort to the family of the late Akenten Appiah Menkah who passed away earlier this week.
In a short statement, Stephen Ntim described Appiah Menkah as an amazing pioneer, freedom fighter, industrialist and statesman.

He said the late founding member of the NPP "fought a good fight and his name will always live on in the history books of Ghana and the Danquah-Busia-Dombo tradition".

Find the full statement below

STATEMENT FROM STEPHEN NTIM ON THE PASSING OF MR. AKENTEN APPIAH MENKAH

My heart is heavy to hear that a stalwart of the NPP and a great Ghanaian, Mr. Akenten Appiah Menkah has passed away. My deepest condolences go out to the dear family he left behind.
I pray the Lord comforts and encourages them during this very difficult time. I am very overwhelmed with sadness at the loss of a man that made a significant impact in my life.

My memory of you is still very fresh, since our last meeting in Kumasi on 7th January 2018. God has called this truly amazing pioneer, freedom fighter, industrialist, statesman, husband, father and most importantly – my Uncle and friend.

At the end of our journey in this cruel world, we will not be remembered for what we did for ourselves, but for what we did for others and how hard we tried to make this world a little better than we found it.

Mr. Appiah Menkah always tried to make others around him better. He fought a good fight and his name will always live on in the history books of Ghana and the Danquah-Busia-Dombo tradition. Rest well Uncle. You will always live on in our hearts.

Stephen Ayensu Ntim