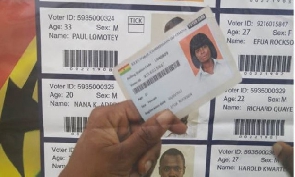 Thu, 4 Jun 2020 Source: GNA
Fifty-five applicants comprising 49 males and six females participated in the first day of the Electoral Commission pilot registration exercise in the Eastern Region.
The two days exercise is taking place at the premises of the Commission's Eastern Regional Office.

Speaking to the Ghana News Agency (GNA), Mrs Faith Amedzake, the Eastern Regional Director of EC, expressed her satisfaction with the process adding that no complaints from any quarters were recorded.

She said prior to the start of the exercise, all the representatives of the various political parties were briefed about the system.

Mrs Amedzake expressed the hope that the system will be very effective when the main exercise for the registration begins.

Nana Oteng Akuffo-Akoto, the Regional Research Officer of the New Patriotic Party (NPP), said the need to get a formidable voter register for the 2020 elections depended on the collective efforts of everyone including the political parties.
He said the process so far has been successful and as a political party, they were still observing and reviewing its outcome.

Mr Baba Jamal Konneh, the Regional Director of Elections for the National Democratic Congress (NDC), said the machine being used in the exercise broke down for eight minutes.

He said that the pilot exercise should have been done at a polling station because it would have been opened to different classes of people to properly test the capacity and ability of the system and machines.

The exercise witnessed the presence of representatives of most of the political parties such as the ruling NPP, the biggest opposition party in the country NDC, Convention People's Party (CPP), Progressive People's Party (PPP) and People's National Convention (PNC).

Others are the National Democratic Party (NDP), Ghana Freedom Party (GFP), United Progressive Party (UPP) and New Vision Party.
Source: GNA