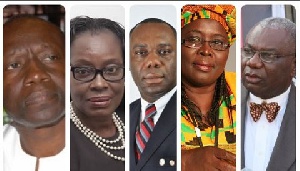 Government Appointees, Please If You Love His Excellency President Akufo Addo, Keep His Commandments
In the Ghanaian society as I have grown to come to know or establish, many Ghanaians have cultivated the habit of cowardice when it comes to telling the truth, or exposing perpetrators of crimes. They will rather choose to tell lies in support of the wrongdoer to help cover up their crimes than to tell the truth to shame the devil.

It seems to have unfortunately become a culture in Ghana where those fighting for the establishment of truth and justice, exposing those abusing their powers or are deeply involved in corrupt practices, to be scorned and hated, rather than loved and praised.

In a nutshell, due to the near-institutional corruption that has eaten into our very Ghanaian human fabrics, some Ghanaians tend to defend the evildoers out of fear or love of what I don't know, I cannot comprehend or I cannot decipher.

However, Jesus Christ says in John 14:15, "If ye love me, keep my commandments.
The theme of my writing today to admonish Ghanaians and those appointed by His Excellency President Nana Addo Dankwah Akufo-Addo to help him administer Ghana will be centred on keeping in line with his avowed intents of being selfless, incorruptible, dynamic and dedicated in serving Ghana and his people (Ghanaians).

Until his team of appointees shares his visions and aspirations in love, doing exactly what he wants, to truthfully uplift Ghana from her current economic doldrums, eschewing any instinctive behaviour of corruption they may have, his promises and plans in the best interest of Ghana as made known will never be achieved.

Throughout his years that God Almighty will grant him to rule Ghana, especially during his first four-year term in office as the President of Ghana, all his appointees must strive to see it as an obligation on them to be faithful to him and to Ghana by not involving themselves in the same arrogance and corruption as depicted by NDC and former President John Dramani Mahama.

It is only by keeping to the gospel wishes of the President to deliver on his promises to the nation and people in absolute faith, devoid of corruption, incompetence, nepotism, arrogance, insults and absurd quest for easy wealth that Ghanaians can keep the NPP in power for long.
It is my prayer that those that the President has appointed and continue to appoint, will serve the nation and the people of Ghana in faith and in truth, exactly as it is his ultimate dream.

I pray that Ghanaians will cease their habit of supporting those committing acts of corruption to rather support those who will challenge those involved in such corrupt practices. It is by this that we can collectively help uplift Ghana to the prosperous level that we all look up and forward to, through the government of NPP headed by His Excellency President Nana Addo Dankwah Akufo Addo.

I am hated and insulted for expressing or publishing my candid opinion about certain corrupt practices by those that we have entrusted our collective well-being to; however, I am never discouraged. I shall continue to do what I feel is right for my people and nation by resisting or condemning such irresponsible behaviours by our public and traditional leaders.

To the newly-appointed Government Ministers, Deputy Ministers and government appointees in general, by His Excellency President Nana Addo Dankwah Akufo Addo, please, obey his commandments to you to serve Ghana and Ghanaians in absolute honestywithout resort to corrupt practices with the aim of illegally enriching yourselves.
Should you disobey him to do the unexpected, being arrogant to Ghanaians, creating, looting and sharing as former President Mahama and his NDC brigade of the Arabian Ali Baba and his forty thieves" did, then be ready to come under my dissecting pen or computer keyboard.

I hope you will not create the fertile ground for me to challenge you for being corrupt.

Stay tuned for more info from Rockson Adofo, the leader of the Mahama Must Go movement who is also trying to free the NPP-sympathising workers at the Tema Development Corporation from unnecessary intimidations and threats as well as endeavouring to get the Kotoka International Airport install Call Forward Systems at the immigration posts for the convenience of arrived and departing air passengers.

The Call Forward Systems inform the head of a queue which teller or reception position is free next. This makes serving customers much more efficient.
Please Ghanaians; let us do away with our habit of hating the one who tells the truth to rather support them for the collective good of all of us.

A word to the wise is enough. I invite whosoever will, to come and drink freely from my overflowing fountain of wisdom, intelligence, selflessness and dedication to be of service to my nation and humanity.

Rockson Adofo

(Written on Saturday, 14 January 2017)