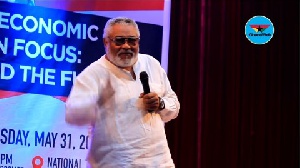 Folks! This is not an academic paper. I have just finished eating some heavy yoke gari and in lieu of sleep after a glass of water exercising my fingers on my iPhone.
By 1965, Ghana's economy had started a slow decline due to a slow economic and political strangulation by certain western powers who did not like the progressive stance taken by our government on some international issues including African Unity etc etc. This was done in part to make the then political leadership sweat and the populace suffer in order to clamor for change or justify the impending coup de etat . But the basis of our industrial infrastructure and economic development had been laid for a sustained transformation in the future with just a little bit of perseverance and local investments.

Subsequent governments refused to invest in them allowing the study decline and others redirected resources to invest in private and foreign anti people ventures. But no one government or head of state has done more harm or nailed down the total destruction of the Ghana economy than military and infantile adventurism of FT Lt Rawlings that he loves to dream it and call it a revolution.

To start with, for the first one year of the PNDC misrule, he put the whole nation under a curfew that lasted from 6am to 3pm. Or dusk to dawn. Meaning that after 3pm, all economic and commercial activities seized. This infantile decision purely based on the fear of his own shadow rather than the true need to preserve the security of state was the start of the total collapse of the economy. All night life, hotels, night clubs, live bands, food vendors, transport, farmings, manufacturing, housing building, road constructions, even some aspects of the health care delivery and entertainment cams to a stand still. This mindless curfew continued in Ghana in various forms for over six years.

Now tell me, which 24 hour young and emerging third world economy can function properly and sustainably nine hours a day without collapsing?
Then we had the terrible and murdering nonsensical economic decision of withdrawing all 50 cedi notes from circulation for long periods without good reasons and no proper accountability for what it was used for or adequate compensation for the withdrawal. Those days, most people who engaged in petty business, trading and fast turn around liquid business requiring immediate cash, kept their cash in large denominations at home. The political decision forced on the Bank of Ghana to withdraw the 50 cedi notes greatly erased the capital and profits of almost all Ghanaians in one fatally childish announcement. If this is not another nail in the economic coffin of Ghana, what is it? The manner in which the 50 cedi notes were withdrawn and receipted made it heart breaking. Most people lost their receipts. And after several years the value of their monies and the value of the economy went down south.

Can somebody ask Rawlings, if it was bad to keep 50 cedi notes, why did his government later even print 100 cedi notes? If I take out his wallet right now, would I not see at least two 50 cedi notes in them? Will it be far fetched to expect to see several 50 cedi notes in his house in Accra right now? So I ask, was the withdrawal of the 50 cedi note based on any sound economic principle or his now proven hypocrisy and envy of those he considered better than him then?

Rawlings presided over the sale of all viable manufacturing and industrial state assets, some to his wife and friends. I remember in the 1970s we assembled TVs Radios, Fans, and even manufactured our own Boafo cars in Kumasi. We manufactured matches in Kade and has sugar in Asutware and Komenda. Rawlings sold all and refused to ensure in the agreement of sale that the new owners kept the factories running with a good economic return to the nation. What happened to all the workers of all these state industries which were sold at " donkomi" prices to friends and family?

Rawlings labeled any Ghanaian with a big stomach as corrupt in those days. So what does he say about his "kwashiorkor" stomach today?
Do you remember his lamentations of the whole of Nima having only one public toilet while "capricious and corrupt" officials had several toilets in their private homes? How many toilets does Rawlings have in his Agyiringano residence in Accra now?

Did Rawlings not personally campaign for Ghanaians to boycott the products of indigenous entrepreneurs like Apino soap by Industrialist like Appiah-Menka and co? How can you campaign against the very industries that would have made Ghana self reliant?

Folks, I will mention only one more factor and call it quits as I need to drink another glass of water after my yoke gari. ( by the way, I paid for mine. I did not get it on credit)

One afternoon, after probably a long bout of apio and a roll of weed, his government in another misguided policy, announced a total ban on the sale or consumption of boiled or roasted corn on the cob and also the sale and consumption of roasted meat on sticks popularly called kebabs or suya! I have never been able to understand the mounting stupidity that will make a government headed by a human being take such a decision. Because in that fleeting moment of idiocy, more than 50,000 Ghanaians up and down the country became unemployed and had no source of income or any idea of what to do to earn a living. A friend of mine who was a promising young doctor dropped out of school because his mother sold boiled corn on the cob. His elder sister sold roasted corn and the cob and his father was a kebab seller. This policy was not taught through. No consideration was given to those affected and no alternatives were given to the many people who lost their livelihood. Any wonder that burglary and armed robbery gained currency under Rawlings rule?
Rawlings once famously said, standing on a Moac armoured vehicle in Kawokudi in Accra, that if he fails, he should be taken to Teshie and shot.

May be, today, as we remember the execution of 6 former military generals 39 years ago for doing less harm than what Flt Lt Rawlings has done to the nation, Ghanaians must give a very serious thought of giving a judicial consideration to allowing Rawlings to have his "death wish"

How can the guy who killed others for less be allowed to smuggle the "transitional provisions" into the 1992 constitution for his own selfish protection?

How can the so-called proponent of "Probity and Public Accountability" be allowed to get away with not accounting for even a single pesewa collected and spent during a nearly 20 years of government?
I believe the time has come for Ghanaians to help the Apostle and preacher of Probity and Public Accountability live by example and not by insulting any other politician dead or alive.

Let Rawlings and all Peace loving Ghanaians lead the charge to remove the transitional provisions from the constitution now to pave the way for serious review of his stewardship to take place.

We need a proper judiciary led investigation with the view to prosecutions and possible executions to atone for the dead economy of Ghana. May be then we can perform a miracle and resurrect our fortunes in economic terms.

Long live our motherland Ghana!