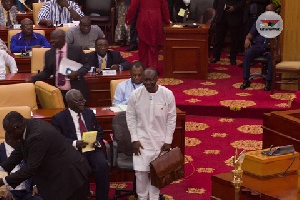 By: Cameron Duodu
The 2017 budget statement read to Parliament by Mr Ken Ofori Atta on 02 March 2017 was a very competent one.

It was also quite transparent. It conveyed a clear balance of payments message. The minister said,

QUOTE: "The balance of payments (BOP) turned surplus for the first time since 2011, due to [an] improved current account balance. The BOP surplus was US$247 million, compared to a deficit of US$129 million in 2015. The trade balance improved from a deficit of US$3.1bn in 2015 to a deficit of US$1.7bn in 2016, due to increased exports receipts (by 7.2 percent) and a decline in imports (by 5.3 percent.)

"The gross foreign asset at the end of December was estimated at US$6,161.80 million, from US$5,884.70 million at the end of December 2015, representing a build-up of US$277.07 million. This was sufficient to provide for 3.5 months of imports of goods and services – [the] same as in December 2015." UNQUOTE

I am impressed that the minister did not seek to hide our relatively good external account situation, since the figures reflect well on the John Mahama administration's effort to bring the economy under control in 2016. A lesser man could have glossed over the figures, for political reasons.
I was also impressed by the minister's willingness to reveal that:

QUOTE: "In 2016, GNPC lifted …. 5,856,921 barrels of oil (4,860,462 barrels of Jubilee oil and 996,459 barrels of TEN oil). Receipts from crude oil liftings ….amounted to US$207.79 million (GH?811.68 million)….Actual petroleum receipts for 2016 fell short of the 2015 performance by 29.1 percent." UNQUOTE

Figures of this nature should help to create optimism in us. We are getting this oil money at a time when oil prices are low on the international market. So if and when oil prices improve, we most certainly can look forward to our economy walking tall again.

The minister also – very commendably – told us the truth about the prices we can expect from two of our main exports – cocoa and gold – in 2017. The minister said,

QUOTE: "Gold prices are expected to decline from an average of US$1,249 per fine ounce in 2016 to US$1,219 in 2017, due largely to an expected strengthening of the US dollar. According to the Commodity Markets Outlook by the World Bank, [the] cocoa price is projected to average about US$2,940 per tonne in 2017– up from US$2,850 in 2016." UNQUOTE
Of course, our cocoa farmers are entitled to demand that the greater part of the slightly less than $100 per tonne will be passed to them. In this connection, is the minister not aware that the Ghana Cocobod spends too much of our earnings from cocoa on just administering the export of the crop?

The way the Cocobod borrows heavily from external sources every year to buy the crop is not in the best interest of the country. The loans attract a relatively high interest rate, at a time when interest rates are very low world-wide. Indeed, some Ghanaians suspect that the loans bring a lot of "commission" to those who arrange them.

Freezing the assets of Mr A or Mr B is all right, but shouldn't the government carry out a forensic audit of Cocobod operations to see whether the alleged malfeasance is widespread? Fear that the board might badly if it is interfered with, is baseless, though it has led previous governments to leave the Cocobod virtually untouchable. Yet, we all know that untouchability is the main lever of corruption in the body-politic.

I do believe, in fact, that it is time for the government to examine the very raison d'être of the Cocobod. Why should we maintain a colonially-conceived institution like the Cocobod at all? It incurs overhead costs that it ruthlessly recoups from the "operation allowance" it exacts from our earnings from cocoa exports.

Fishermen are allowed to sell their catch themselves through the open market. So do plantain, yam, cocoyam, cassava citrus and pineapple farmers, and other agricultural producers. Why should cocoa farmers alone be singled out and be made to continue to serve as – basically – the labourers of the Cocobod (and by implication, the government?)
The system is convenient to the government, to be sure, but with modern data systems capable of capturing sales by farmers and therefore making it easy to tax them like everyone else, the main argument that the government cannot collect taxes from cocoa farmers – unless the government itself sells their crop and taxes them at source is extremely backward.

"FREE THE COCOA FARMER" I say to the government. Otherwise, its claim to be a liberal, business-friendly" government, will be just hypocritical hot air. Indeed, the implementation of the ECOWAS Common External Tariff, which (the minister reminded us) the government recognises as capable of serving as "a major platform for the establishment of [a] Customs Union… [will] help address problems such as cross-border smuggling and dumping in the sub-region".

Certainly, the elimination of smuggling should serve as a further incentive for the government to allow cocoa farmers to sell their own crop. "Change has come!" NPP followers believe. The government should, therefore, not waste any time in turning the "change" into reality for our cocoa farmers.

Another aspect of the budget that disappointed me was the minister's inability to highlight the steps the government plans to take to fight our biggest national calamity of the moment – galamsey. If the government as a whole does not make the anti-galamsey crusade its major plank, it will wake up one day to find that all our water bodies are dead and that whatever social changes it seeks to bring to the rural areas – such as 'one district one factor' – will be still-born.

You just cannot mess about with your people's drinking water. I remind both Mr Ken Ofori Atta and his boss, President Akufo Addo, that the River Birem which nurtured them when they were babies – is at its death-point and crying out, like the Prah, the Offin, the Oti, the Densu and many other rivers in Ghana: Grandchildren of the Abuakwa Stool, now that you have got power, don't play deaf to the cries of agony of your sacred Rivers! If YOU of all people close your ears to our cries, to whom shall we turn?"
As the Twi proverb has it, "Na asem se ber" (A word to the wise is enough).

www.cameronduodu.com