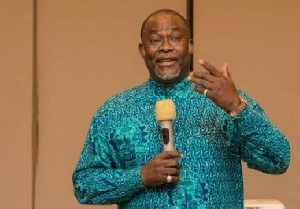 On the occasion of Ghana's 61st Anniversary celebration, I wish to congratulate our beloved country, Ghana for its achievements that have enabled it to receive various levels of global recognition, especially for its democratic credentials in recent years. In many parts of the world, including in most of Africa, Ghana's relative peace and internal harmony are seen as values worthy of emulation.
I wish to pay glowing tribute to the Founding Father, Osagyefo Dr. Kwame Nkrumah, and all the other torch bearers who fought fearlessly to get Ghana to become an independent nation liberating her from the shackles of British Colonial Rule. May I also pay tribute to all Ghanaians including the present and past Presidents and governments who have superintended over the affairs of this nation. All the fallen soldiers, countrymen and women who died in Service to the nation are fondly remembered on this occasion.

After 61 years of political independence, we are yet to see our dear nation become economically independent. Despite the myriad of rich human and natural resources we are endowed with us a nation, poverty and underdevelopment continue to bedevil us. There continues to be a growing inequality gap between the rich and the poor across the country and this has serious ramifications for our national security and the quest to have a relatively serene environment that is devoid of crime.

The various governments in the past and present have not done enough to stamp out poverty among our people. The current security situation in the country should serve us a warning to us all, especially government, to take the requisite steps to weed out the root causes of the problem, so Ghana can remain the potential shining star of Africa.

In this regard, I call on the President, His Excellency Nana Addo Dankwa Akufo-Addo, to show more leadership and take responsibility for the current state of insecurity in the country which is making most Ghanaians was to live in perpetual fear. This atmosphere of fear is not justified by the numbers of officials who work within the arena of national security.

The recent numerous spate of armed robberies and the commission of other heinous crimes against Ghanaians and non-Ghanaians alike cannot be justified by a government with 110 ministers and thousands of other government appointees serving in the security system. The current state of affairs, if not arrested, will no doubt, have a debilitating effect on the nation's quest to attract both domestic and foreign direct investments.
Civil society should wake up and ask for accountability from those to whom we have entrusted our lives and safety, but who are failing woefully to protect us the citizenry. The Operation Calm Lives that has been instituted to fight crime is commendable and I urge our security operatives to do all within their means to ensure that we can all sleep with both eyes closed.

We should thank our countrymen and women for their patience and endurance, and call on the government not to underestimate the frustration and anxiety of Ghanaians.

Happy Independence Day Ghana!

Long live Ghana, Our motherland!!