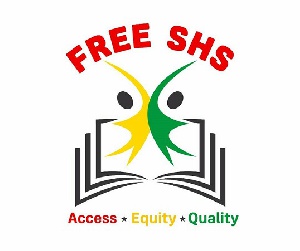 "Knowledge and talent are not for the rich and privileged alone. Free education widens the gates of opportunities to every child, especially those whose talents are arrested because of poverty" – These are the words of our dear President, the man whose decisions are not geared towards just the next election, but, towards the survival and progress of even the generations yet unborn.
Like I said in sometime past, when the trumpet sounded, we gathered everything, even our last "kobo" was taken along. The youth, everyone marched, damned all the consequences of our very actions and inactions at our various work places, at our schools and there were times we even had to abandon the bedrooms. We garnered and marshalled all forces at our disposal; we were out for action, we were out for total liberation of the Ghanaian people from the then NDC government and we were poised for a possible radical redemption. I'm glad our hardwork wasn't in vain.

Finally, we took control of the season and today, filled with uncontrolled tears of joy, with the implementation of the NPP's Flagship Programme, the Free SHS, I can beat my chest and say, this indeed is the dawn of a new era, we've wandered for far too long in the wilderness and finally we are on our way home as a country.

This is just the beginning…. The policy, if not the best, but is one of the greatest things ever to have occurred in the history of Ghana.

Generations will tell their children and their children's children, that it was a certain Nana Addo Dankwa Akufo-Addo who made this possible. They will be told, that when patriotism was made a sacrificial lamb in the previous era, it was this same Akufo-Addo, whom by his own deeds rekindled, rejuvenated, revitalized and awoken the then dead spirit of patriotism, yes He was the man……
We must confront the harsh realities we all face and make difficult choices to ensure our collective survival. That is to say, that the Free SHS will encounter its own challenges but let no man, let no school authority make deliberate attempts of sabotaging this programme; anyone who will do that must be ruthlessly dealt with. The onus therefore lies on us, as citizens to make it our job, first and foremost to protect the citizens of the country even if it means bending the law, but if we break the law, then we are not better than these criminals. This brings me to the point where I have to say, that a blueprint clearly pointing out to the school authorities how the Free SHS program should be handled, the dos and donts of the system and swift sanctions for offenders is a necessity.

Just yesterday, it came to our attention that some school authorities have asked students to pay money into some school accounts without any explanations given to parents. We are all aware, that PTA dues are allowed to be charged by schools but, what other dues is also allowed? There are also reported cases where parents get to schools their wards have been placed, only to be told by school authorities that they should go and come back the next day, yet they give no explanations for their action.

Strangely, I asked myself, why someone or an authority will deliberately frustrate parents or guardians who are trying to secure admission for their kids who have duly been placed. Then, I remembered, our country is so partisan to the extent that, people will do everything possible to kill a great policy from their political opponents. That is a shame!

Moving forward, it won't be a bad idea should a desk and a toll free number be set up at the Ministry of Education or Ghana Education Service for purposes and complaints and swift interventions of only the Free SHS programme. Strict and punitive measures should be applied to school authorities who are caught trying to sabotage the programme. The role of an effective Free SHS monitoring team or task force cannot be underestimated. Tougher measures should be put in place to ruthlessly deal with saboteurs of the programme. Ghana must succeed.