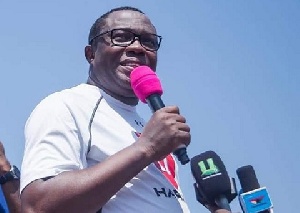 Good day folks. I apologize for my long break. Anyway, I bring you greetings from my village.
The yellowish streaks of morning light have started diffusing through the forest, producing long shaddows on the cattle path. The incessant sound which mingled with the noise of falling water further down the valley.

A pleasant numbness dulled me into immobility. I did not move but leaned against a tree and watched the appreciation.

After a while, I broke the long chain of silence my tuning my radio to a frequency of 93.3 (Kessben fm).

It was there I heard scraps of the "Ofosu Ampofo tape".

I am sure by now my dear readers have been greeted with the nitty - gritties of the content. Some of us are however not perplexed taken cognizance of the history of the national democratic congress(NDC). Mr. TIO (The Incompetent One) himself was not carrying water in his mouth when he said they are going to match the NPP "boot for boot".
The big question is, is JM going to line up his family to lead the attacking role?

"Who born dog", courtesy to "Papa J" for John Mahama to think that with war drums as a "musical interlude" he can win back power in 2020 so he can creates more "wojomes, SADAs , GYEEDAs and etc.

Clearly, the NDC as a party do not have the men to hit the ground running with regards to social policies.



Former President Kuffour in his own wisdom doubled Ghana's GDP from $20 billion to $46 billion. In December 2016 by the time JM left office, our GDP had dropped to $36 billion, yet, this a man who is preaching for a change in government in his name.
The positions of national communications officer and his deputy simply epitomizes everything about Ayi Kwei Armah's "chichidodo bird" which profess to hate filth but feeds on maggots.

I need to put my pen down. However, before I do that, let me remind the leadership of the NDC that, they don't need to kidnap innocent Ghanaians to make the ruling government unpopular. They don't need to attack the national peace council nor Nana Addo to remain relevant in the "game".

All they need to do is to belittle the policies of the ruling party with superior ones.

A word to the wise, is enough.