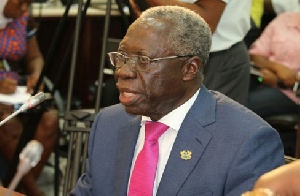 By: Adofo, Rockson
Has Senior Minister Osafo Marfo any vested interest in the ongoing Kumawu chieftaincy dispute and if the answer is yes, then what is it? It is alleged, as sourced from the Kumawuhemaa and Kumawuhene Barima Sarfo Tweneboa Kodua's camp that he advised Kumawuhemaa to cause the arrest of anyone disturbing her over the Kumawu chieftaincy dispute or affairs when he was approached by the queen for help.

Could he then be the one masterminding and orchestrating the ongoing police cum military assaults on, and intimidations and arrests of, some people in Kumawu and Bodomase for holding on to their just cause to ensuring that justice prevails in the ongoing Kumawu chieftaincy dispute?

Kumawuhemaa and her supporters do not keep secrets the revelation of which they think, will frighten off their rivals in the dispute hence this information gradually becoming a public knowledge.

The ease with which, as strong NDC stalwart supporter as she is, to worm herself into the hearts and minds of some top NPP Government Ministers to get them support her with police and military personnel to assault, intimidate and arrest NPP supporters who support the other rival Kumawuhene is very shocking. What has come over NPP as a people and a party of decency?

Whatever their reasons and expectations are, whether they have been promised lands and/or money by Kumawuhemaa for their services which stand to border on corruption and criminality, they will never be able to realise them.
Ghanaians voted for a change in President and government from President Mahama and his NDC-led government to President Nana Addo Dankwah Akufo-Addo and his NPP-led government for a number of good reasons. They wanted to end the joblessness of the youth. They wanted to end the prevalence of injustice, practice of selective justice, lawlessness, judicial and institutional corruption and the openly create, loot and share of public funds that had become the flagship traits of the President Mahama's NDC-led government.

The above listed problems which were happily executed by former President Mahama and his NDC-led government are the bane of the socio-economic development of Ghana.

If Senior Minister Osafo Marfo had advised the queen as her camp boastfully alleges, and on the ground the effects of his advice are evidently witnessed as indicated above, then I am sorry to say we have only robbed Peter to pay Paul. Is the injustice for which Ghanaians voted out President Mahama not in continuation looking at how the police and soldiers descended on Kumawu-Bodomase to assault people and continue to conduct dawn raids on homes beating and arresting innocent people all for someone's ill-conceived advice?

I am still investigating some lines of involvement of some NPP Government Ministers who are behind Kumawuhemaa to attain her illegal motives.

I shall strongly entreat all such Government Ministers to learn Kumawu history and other conventions in relation to the selection, election and enstoolment of Kumawu chief-elects and their gazetting if they want to be fair to themselves and to the subjects of Kumawuman.
I am sure Senior Minister Osafo Marfo and his junior NPP Government Ministers may not erroneously assume that they are now in power and have the power to do as they want when they want. No, we are in a democracy where the people have power to decide their fate. Not long ago, former President Mahama thought he had power so he could disrespect people, insult power, abuse his power and embezzle public funds as though tomorrow never comes. Where is he now? Ghanaians have voted him out of power and who knows if he risks prosecution for his stewardship to Ghana?

His Excellency President Nana Addo Dankwah Akufo-Addo is incorruptible, a champion of human rights and a dynamic and dedicated person with intentions to be of honest service to his people and country so many a Ghanaian will not countenance any acts of corruption by his appointees that will put his credibility in doubt and turn people against him.

Old age is said not to be an indication of wisdom but we expect that of Senior Minister Osafo Marfo to be. He should pull out of the Kumawu chieftaincy case if he is not going to be fair but to succumb to the wishes of Kumawuhemaa for reasons only best known to him.

Finally, it must be noted that lawless are they that make their wills their law. Kumawuhemaa is lawless so Mr Osafo Marfo should not let idiots ruin his day, if not career and respectability.

He who sleeps with dogs wakes up with fleas". Are there not two paramount chiefs in Accra, Tuoabodom in Brong-Ahafo region, and two chiefs in Sushyen in Eastern region and Bimbilla in the north? Are the chiefs molested by the police? No! Why then only in Kumawu have the police taken sides to intimidate one of the rival chiefs who rather happens to be the legitimate and most preferred one by the masses? What interests have the so-called superiors and the overlords, in Kumawu? Is it to help themselves with Kumawuman lands and money?