When national discourse is discouraged on the free SHS implementation, then there is a danger ahead!!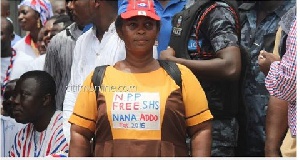 The political terrain is actually full of issues. There are very challenging issues begging for national attention but the very people who supposed to use their expertise to raise those issues up are rather jumping in glory for an attempt by government to implement progressively free secondary education.
We must be serious and stop making mockery of academia. After we have implemented, monitored, assessed and evaluated the process and get positive feedbacks or position results, we shall then celebrate our milestone in that regards. We are not there yet!!

As a teacher, I pray for a successful implementation of the program but let me be quick to add that every intervention comes with emerging problems. This is not any uncommon knowledge to policy analysts.

Government is really doing well in the implementation process but it is as if teachers and other stakeholders are only spectators. Teachers and students are the base of this policy and teachers in particular must have a voice in the process. The teacher is not a slave to educational policies. This is why national dialogue is still required.

Foresight is required to envisage challenges that are bound to happen. A holistic consultation with this, would help one to appreciate or otherwise of the relevance of the intervention.

Progressively free secondary education requires a massive proportionate intervention at the tertiary institutions. Infrastructure must be expanded, more institutions must be established to absorb the gargantuan numbers that would possibly be churned out by secondary schools. If access is limited at the tertiary educational level like we have already introduced the quota system at the training colleges, then there would be a gap. This gap would be a threat to the policy and has an almost infinitive propensity to defeat the essence of the intervention.

I think we can slow down, put the quick glorification aside and think of the sustainability of the policy. We could stand more exposed to other internal and external shocks (educational) if we don't adopt a holistic approach in our quest to providing better and quality education in the country. The truth is that as a developing country, we need policies that are sustainably viable and not what is politically expedient.
I think we can take Uganda as a case study because it has a better experience in a similar policy. A similar intervention compounded the educational predicaments of Uganda and the country has since been struggling to raise educational standards.

Let's engage in a nationalistic discourse and find better alternatives to sustaining any intervention by the state. After all, it is for the progress of the state.

Unfortunately, anybody who wants to offer any critique on the implementation of this free secondary education is called names and insulted. Today, people think that they are right to offer critique on this policy is reserved for only NPP. That has always been the mistake of many African countries.

Government cum NPP communicators should know that it is the sweat of the citizenry that will be used to finance this policy. All of us are contributing in one way or the other and so the political jabbing must be given a reasonable ceiling in the interest of the government and Ghana.

Rubbishing critique is tantamount to discrimination and exposes our shallow understanding of democratic governance. We are all Ghanaian.

Everything requires nationalism but everything does not require politics.