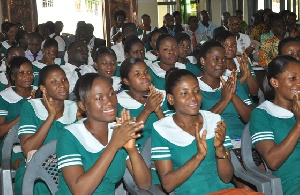 The Ghana Health Service (GHS) has asked nurses who graduated in 2016 to begin application for recruitment online.
According to the Service, financial clearance has been granted by the Ministry of Finance for the recruitment of these nurses.

The online application opens on Wednesday, February 27 and closes on Friday, March 15.

A statement issued by Director General Dr Anthony Nsiah-Asare said the recruitment will be for Nurse Assistants Clinicals and Preventive from public health training institutions.

They will be recruited into facilities under GHS.

The statement was, however, silent on the number of nurses to be recruited.
But delivering his address to the nation last Thursday, President Nana Addo Dankwa Akufo-Addo announced that over 14,000 of nurses who graduated in 2016 had been recruited and started work at the beginning of February.

"Government granted financial clearance for the recruitment of eleven thousand, one hundred and eighteen (11,018) health personnel to increase existing clinical staff," he said in Parliament.

"To augment the efforts of clinical staff, in September, 2018, the Ministry of Health received further financial clearance to employ fourteen thousand, five hundred and twenty-four (14,254) Nurse Assistants (Clinical and Preventive). These nurse assistants belong to the tranche that passed their exams in 2016 from Government Health Training Institutions, and have commenced work by 1st February, 2019."

But this was contested by some nurses, probably triggering Monday's statement.