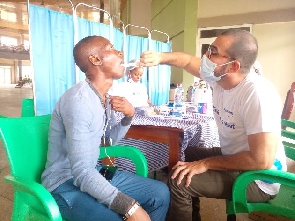 Fri, 28 Apr 2023 Source: GNA
Dr. Mensah Tabi-Amankwa, a Dentist at the International Maritime Hospital (IMaH), has indicated that it is possible for a person to die from a tooth infection if left untreated.
Dr. Tabi-Amankwa noted that tooth infections like sores and ulcers in the mouth could spread beyond the jaw and cause life-threatening complications by blocking off the airway going down the throat.

Dr. Tabi-Amankwa made the disclosure at the weekly "Your Health! Our Collective Responsibility," platform, a Ghana News Agency Tema Regional Office initiative aimed at promoting communication on health-related topics and setting the medium for the propagation of health information to influence personal health choices by improving health literacy.

The GNA-Tema: Your Health! Our Collective Responsibility initiative also serves as a public health advocacy platform initiated to explore the parameters of the four approaches to health communication: informative, educating, persuasive, and prompting.

Speaking on the topic "Oral Health," the IMaH Dentist explained that, any sore in the mouth that did not cause pain and extend beyond three weeks without healing could be an early sign of cancer.

Adding to that, stress also caused ulcers inside and at the corners of the mouth, which was an indication that nutrients like iron or vitamin B12 in the body were not properly balanced.
He said sometimes a hole in the tooth did not cause pain but, if left unattended, could generate a swollen face that could spread to other parts of the body.

He described cavities as a loss of tooth tissue that progressed to food getting stacked into the hole and, with time, transitioned to constant pain, difficulty taking cold water, and finally to a facial swell.

He said the situation could be severe, spreading infections that were caused by bacteria in the tooth and capable of breaking down some of the body tissue and producing toxic by-products, so it could spread further to the neck, preventing eating and swallowing and eventually suffocating the patient to death.

Francis Ameyibor, Regional Manager of Ghana News Agency Tema, explained that "Your Health! Our Collective Responsibility" is part of a collaborative effort to establish a means for the dissemination of health information in order to influence individual health decisions by increasing health literacy.

He also stated that it aimed to use the communication abilities of the GNA and medical professionals to inform the public that everyone's health was important and should be prioritized.
Source: GNA