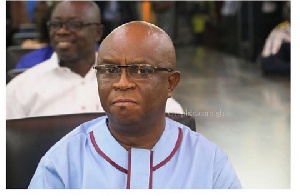 Wed, 25 Oct 2017 Source: Fred Yornu/Ghanaweb
The Volta Regional Minister, Dr Archibald Yao Letsa, has stated that any individual who is unhappy with the implementation of the New Patriotic Party government's Free Senior High School Education Policy has no good intention for the progress of Ghana.
According to him, the initiative which is to help relieve financial burden of parents and give Basic Education Certificate Examination graduates equal access to second cycle education must be lauded by all devoid of party politics.

"If anybody is angry that you are going to school free, the person is practicing witchcraft. That is not politics, it is pure witchcraft", he said when addressing students of Kete Krachi Senior High School in the Krachi West District during a 3-day working tour of northern Volta.

Dr Letsa indicated the Free SHS policy is targeted at producing an educated populace to contribute effectively towards the growth of the country's economy and eradicate poverty.

He, however, assured that anomalies identified in the implementation of the free SHS policy would be tackled as time goes on.
Dr Letsa also implored the first beneficiaries of the policy to be committed to their studies and make government proud for investing in their education.




Source: Fred Yornu/Ghanaweb