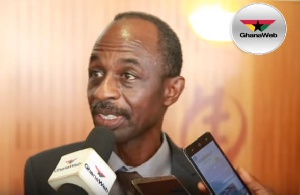 The General Secretary of the opposition National Democratic Congress (NDC), has mocked President Nana Addo Dankwa Akufo-Addo's free senior high school policy.
The president on Tuesday told journalists that he will look foolish and extremely dishonest if he is unable to implement the flagship education programme.

The policy is a high priority on government policies and it was not a promise to hoodwink Ghanaians as suggested by some critics, Nana said on Tuesday. Answering a question posed to him at his maiden media encounter, the president said, ''I am not a hood winker, I am not a cone man and I am an honest man.''

But Johnson Asiedu Nketia laughed off the assurance given by the president. The NPP he noted deceived Ghanaians with the free senior school policy. He said, the NPP promised to give opportunity to every Ghanaian child to benefit from free SHS but after winning power, they have changed the goal post.

''The NDC on their part promised progressively free SHS whereas the NPP promised free SHS for everybody. That was the main difference between NDC campaign and NPP campaign.
The NPP mocked our community secondary schools and promised to make them boarding schools and so Ghanaians voted for you, but after winning, you have changed to only implanting the policy for only first years. The policy will not even benefit all the first years, there will be a cut-off point. This is nothing but 419, he said.

He charged the NPP to apologise to former President Mahama for denigrating him on his education policy of progressively free SHS since the policy by the NPP, is nothing short of progressively free and not free as promised in 2016.

The policy is being implemented in a capitalist way because it will only benefit the elite instead of those who are poor and cannot afford it.

''I have insisted that when the NPP promise to implement a welfare package, they implement it in a capitalist form. They go for the money using the poor but when implementing the policy, they do it in a capitalist way to benefit only the elite and rich people.''