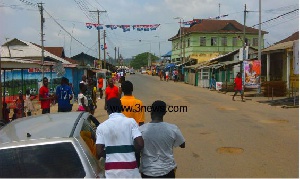 The New Juaben North leadership of the New Patriotic Party (NPP) is asking the police to bring perpetrators of last Sunday's clash to book irrespective of what party they are affiliated to.
The NPP claims 10 of its supporters were assaulted and wounded in the clash. The Constituency Secretary, Asante Antwi, and the Member of Parliament for the Constituency, Adjei Boateng, led the party's leadership to address a press conference at Asokore on Monday.

According to Mr Antwi, the National Democratic Congress (NDC) started hurling of stones at them first.

"In about 10 minutes after arriving at the community centre, we saw the NDC led by a convoy of over 20 motor bikes, some Metro Mass buses and about 100 people also returning from Oyoko.

The police about 10 of them were with us at the forecourt of the Asokore Community Centre. Upon express instructions of their parliamentary candidate, they started hurling stones," he narrated.

"Without any provocation, the women with us run for cover and the police couldn't stand the stone attacks as people ran for shelter. They were pursued by the marauding thugs into homes. We are reliably informed that the thugs who marauded the homes were led by one Alhassan and Salem from Zongo."

The NPP feels those who allegedly attacked them were not from the Constituency.
"What is noteworthy is that those who visited the main mayhem on us were rented from outside the New Juaben North Constituency, showing clearly a failure of their campaign to raise the numbers for campaign activities."

The police are yet to make any arrest and have asked residents to help identify those who ransacked and destroyed properties and belongings.

"They hired thugs, hurled stones into roofing sheets and kiosks and homes where our people sought shelter. They took bread and pure water that were being sold on the road side. Doors were destroyed, sick persons resting in their homes were beaten up and their phones and money stolen."

Mr Antwi pointed out, "From our side, people who incurred various degrees of injury were sent to hospital and treatment and the number has risen from eight yesterday to 10 this morning."

The NPP is arguing the New Juaben North seat has been for its candidates and that they would still hold on to it come December 7.