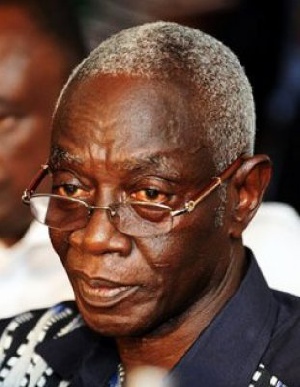 Mon, 26 Nov 2012 Source: peacefmonline
THE ASHANTI Regional Electoral Commission (EC) has taken delivery of the first batch of presidential and parliamentary ballot papers for the December 7 elections.
But the NDC and NPP have expressed concern about the torn bags in which most of the ballot papers were stored.

Fred Fredua Anto, the Ashanti regional NPP chairman and Joseph Yammin, the Ashanti regional NDC secretary, expressed disgust over the appalling state of some of the bags containing the ballot papers.

They stated that though the items had been sealed in the bag, the weak-looking bags could make it possible for any person to tamper with the vital items stored in it.

The NPP and NDC therefore implored the EC to make sure that brand news bags of the highest quality were purchased to store the ballot papers to prevent unscrupulous persons from tampering with them.

The ballot papers reached Kumasi late Saturday and they were sorted out yesterday morning, in the presence of political party agents at the Police Depot at Patase.
Isaac Owusu, Deputy Regional Director, EC, told DAILY GUIDE the second and final batch of the ballot papers would arrive in Kumasi yesterday evening.

He assured that the EC would sort the items out on Monday morning in the presence of political parties' representatives and the police.

Mr. Owusu said the EC decided to offload the ballot papers in the presence of the political party agents so that nobody could complain later of wrongdoing on the part of the EC.

According to him, all the bags had the seal of the EC; therefore no one could break into them and cause mischief.

He intimated that the ballot papers would be kept at the police warehouse under the constant watch of policemen to prevent any person from laying their hands on them.
Mr. Owusu Ansah admitted that indeed some of the bags were torn, exposing the ballot papers, but he insisted that the bags were not weak but got torn when they were being transported to Kumasi.

He stated that all the torn bags were changed and the ballot papers placed in brand new bags that were strong with seals on them.

Sam Pyne, the Ashanti regional NPP scribe, who witnessed the exercise, said the NPP was committed and ready to play its role to make the polls peaceful, urging the EC to do a thorough job.

The Ashanti regional CPP secretary, Daniel Essien, on his part said his political party had unwavering confidence in the EC to do a thorough job, stating he was happy about the turn of events so far.

Joseph Yammin said apart from the torn bags, the NDC had no problems with the output of the EC, praising the EC for inviting all the political parties to witness the exercise.
Source: peacefmonline