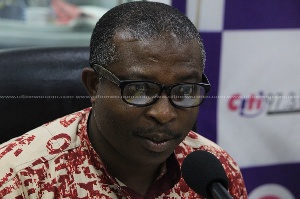 Deputy Minister of Health, Alexander Kojo Kom Abban has accused the erstwhile Mahama administration of being the cause of the graduate nurse unemployment situation that is confronting the current administration.
Mr Abban has laid the blame at the doorsteps of the past Mahama administration of the National Democratic Congress (NDC), insisting that: "The backlog [of nurses] came as a result of the mismanagement of the economy… by the previous government".

He maintains that: "If the previous government had done things well and had recruited these people, I'm sure we will not have the backlog of those in 2017 and 2018".

Mr Abban, who was a guest on Class 91.3FM's Executive Breakfast Show on Wednesday, 30 October 2019, said there has been a systemic failure over the past years and the current administration is plugging the loopholes.

Members of the Graduate Unemployed Nurses and Midwives Association have been embarking on a series of protests including picketing the Ministry of Health to demand their immediate employment.

The association is made up of public-trained nurses and midwives who graduated in 2017 and 2018 and have been home unemployed.
Elaborating on the matter, Mr Abban told show host Benjamin Akakpo that in 2012, the previous NDC government "went for policy credibility from the IMF and one of the conditionalities was that you must freeze public sector recruitment and that obviously meant that those doctors and nurses who had completed school would not be absorbed by the public sector and that has led to the backlog".

He said there have been five cohorts of unemployed nurses made up graduating classes from 2012, 2013, 2014, 2015 and 2016.

According to him, after the Akufo-Addo government came to power in 2017, they needed to take an action, and it was only fair that they addressed the recruitment problem starting from those who had been home for the longest time, starting from 2012.



He pointed out that 54, 800 health workers had been recruited by the time they finished with the 2016 batch and had to pause the recruitment process.
They, however, assured the rest of the nurses to exercise patience as the ministry addresses other concerns.

But this has not gone down well with the members of the Graduate Unemployed Nurses and Midwives Association who are insisting they get employed immediately.

This comes in the wake of protests by some angry nurses and midwives on rotation who demanded payment of their seven months' allowance within the next week or they would go on strike.