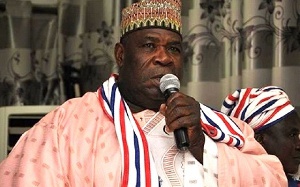 It appears that even before the Committee set up by the Ashanti Regional Chairman of the ruling New Patriotic Party (NPP) Mr. Bernard Antwi Boasiako aka Chairman Wontumi, to oversee the construction of a new office complex for the party's stronghold starts its work, donations have started pouring in.
The firebrand and the outspoken Northern Regional Chairman of the party, Mr. Bugri Naabu, has donated 300 bags of cement towards the execution of the project.

The dynamic Ashanti Regional Chairman of the ruling party on Wednesday inaugurated a 10-member committee to oversee the acquisition of land and funds towards the construction of an ultramodern office complex befitting of the party's stronghold status.

The initiative, seen as a further in the cup of the young and vibrant regional chairman, has been lauded by various sections of the public including party bigwigs as a step in the right direction.

Chairman Wontumi, before the elections, singlehandedly acquired a full house at Krofrom which currently accommodates the party.
Therefore the proposed construction of the new office is expected to further enhance the activities of the ruling party in its stronghold.

It is no surprising that two days after the inauguration of the Committee made up of eminent personalities, donations have started coming in from individuals.

According to the NPP Northern Regional Chairman, Mr. Bugri Naabu, the initiative by his colleague in the Ashanti Region is a laudable one which must be supported, stressing that an attractive political organization like the NPP must have a befitting office in its stronghold.

"Chairman Wontumi is a visionary young man full of ideas. He must be given the needed support. After putting in so much efforts which culminated in our victory, he has now thought it wise to put up an office complex which will not only benefit the current generation but future ones too," he said.