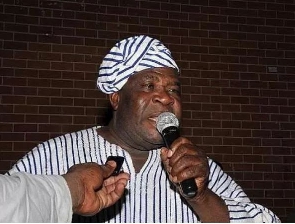 Former Northern Regional Chairman of the ruling New Patriotic Party (NPP), Daniel Bugri Naabu has fired a salvo at some Party executives describing them as "hypocrites."
Bugri Naabu was angered by some members of the NPP who he claims are saboteurs hindering the success of President Nana Addo Dankwa Akufo-Addo's government.

He described such conduct as an affront to the NPP's chain of command and threatened to sanction those implicated.

Speaking in an interview, the vociferous Bugri Naabu observed that these acts are gradually undermining the administration of President Nana Addo Dankwa Akufo-Addo.

"Very soon, I will name some appointees who are hiding behind the youth and demanding the dismissal of some appointees from office. They want to destroy the gains Akufo-Addo has made since 2016", he stated.
He said the NPP is sharply divided into tribal lines in the Northern Region following the ministerial appointments made so far.

Bugri Naabu was by his closest contender Mohammed Samba at the delegate's conference of the party held at the Aliu Mahama Sports stadium in Tamale in April.

Daniel Bugri Naabu, who was tipped by many to win, had 116 votes, whiles Business mogul, Mohammed A. Baantima Samba won the Chairman slot with 312 votes of total votes cast of 492.